It's been 50 years since the Seal of Cotton trademark was introduced. That's a lot of time filled with a lot of memories, many of them made while wearing cotton apparel. And that's something Cotton Incorporated wants to celebrate while also reminding consumers to look for the cotton seal while shopping, as the clothes that bear the emblem hold the possibility of making even more great memories.
"Consumers love cotton. They trust it…They have an emotional connection with cotton that no other fiber can claim."

Kim Kitchings, Senior Vice President, Consumer Marketing at Cotton Incorporated
The new Cotton Incorporated ad campaign, named "Memories are Made in Cotton", recently launched on both television and digital platforms. It shows viewers, in particular Gen Z and Millennials, how cotton clothes have been there through the years and is the common thread for all their best memories. It also reminds viewers to check clothing labels for cotton "and go make more" memories.
Brands and manufacturers can leverage the popularity of the Seal of Cotton in a range of marketing efforts, from packaging and point-of-sale to interactive digital experiences and more. Cotton Incorporated licenses interested companies to use the Seal of Cotton trademark on qualifying products. Those who use the seal are linked to Cotton Incorporated's consumer promotion and advertising campaigns, which elicits millions of consumer impressions both on television and online. Of note: there are no fees or royalties involved – the only requirement is the use of cotton.
This stands to be a meaningful licensing deal for apparel makers, as more than 8 in 10 consumers (82 percent) say the seal makes them feel they can rely on the product/brand associated with it, according to Cotton Incorporated's 2023 Seal of Cotton Survey. Additionally, 81 percent of consumers say a brand using this logo is helping them make an informed buying decision. And 79 percent say brands using the seal make their buying decisions easier.
Something that stands out is the seal's recognizability among consumers. Nearly 8 in 10 consumers (78 percent) have an awareness of the Seal of Cotton, according to Cotton Incorporated's 2023 Seal of Cotton Consumer Research. That's far more than other fibers.
Cotton Incorporated's Kim Kitchings, senior vice president of consumer marketing, explains why the seal's awareness is so high.
"Consumers love cotton. They trust it," Kitchings says. "They have an emotional connection with cotton that no other fiber can claim. In a 2023 study, consumers tell us that cotton and cotton blends are two- to three-times more likely to represent key attributes in apparel than clothes made of polyester, poly blends, rayon and rayon blends. And those attributes include comfort, quality, sustainability, breathability, doesn't irritate the skin, is easy to care for and it's hypoallergenic. It's no wonder that consumers associate these attributes with cotton. From the moment we're born, we're wrapped in a cotton blanket. Then we're living in denim jeans and T-shirts, sleeping in cotton sheets and drying off with cotton towels. We utilize hygiene products that contain cotton and even eat food that's been made with cottonseed oil. Cotton is truly the fabric of our lives."
The Seal of Cotton came about when Dukes Wooters, the first chairman of Cotton Incorporated, decided that in order to convert cotton from an agricultural commodity into a consumer brand, he needed a symbol, according to the book Cotton's Renaissance, a Study in Market Innovation. Inspired by Susan Landor, who worked with her father and graphic designer Walter Landor of San Francisco, the Seal became one of the most successful trademarks in the history of marketing, write the book's authors Timothy Curtis Jacobson and George David Smith.
"Unlike the wool mark, it was not a symbol but rather a picture and the word – 'cotton,'" the pair write. "It needed no other caption. The white cotton boll, rising up from the two tees of the word 'cotton' and laid against a background of earth-tone brown, sent several positive messages at once. If nature was good, then cotton was good. With the farmer's help, cotton renewed itself year after year. Cotton had roots, but also had bloom. Cotton was pure, soft, comforting and natural. Cotton was something familiar that you want to have and keep around."
Today, the Seal of Cotton brings to mind three C's among consumers: clothing (48 percent), cotton (39 percent) and comfort (22 percent), according to the 2023 Seal of Cotton Consumer Research. Consumers say the seal best represents natural (90 percent), plant-based (88 percent), softness (87 percent), safe (85 percent), sustainable (82 percent), vintage (81 percent), trusted (81 percent), comfort (80 percent), authentic (80 percent), and reliable (77 percent).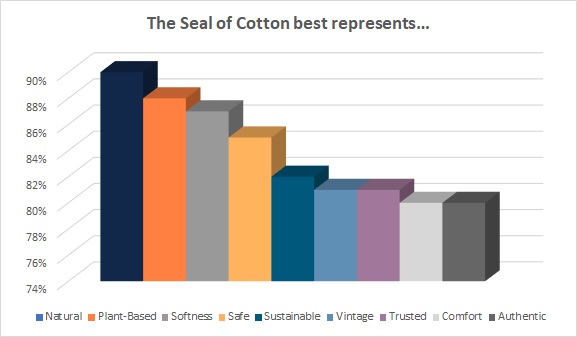 Kitchings reiterates that consumers say the seal eases the consumer shopping experience, which is good for brands that bear the logo.
"It eases the shopper journey by quickly identifying the product and adding transparency to a brand that uses the seal to help their consumer make an informed decision," Kitchings says. "So much so that 82 percent of consumers tell us they'd like to see more Seal of Cotton product at retail. That is a significant lift to any brand or retailer looking to help their product.
"We know that brands using the seal offer a point of distinction and it's a powerful sales builder in our brand partnership programs with women's and men's apparel, children's wear and even home textiles," Kitchings continues. "We've seen a double-digit return on investment when these brands are intentionally using the Seal of Cotton on curated cotton products, whether that's in-store or online, and also when they have combined this with messaging about cotton. That could be fashion, benefit or sustainability messaging."
Since its creation in 1973, the Seal of Cotton trademark has gained global recognition. Those who are interested in using the Seal on their products can write to [email protected].
Learn more about the celebration for the 50th anniversary of the iconic Seal of Cotton.