With wildfires, drought, flooding, and a never-before-seen tropical storm that hit the desert areas of California recently, climate change is dominating headlines around the globe. Concurrently, consumers are interested in doing right by Mother Earth, and have a growing interest in sustainability. In fact, consumers are willing to spend more for sustainable brands and products, according to a consumer spending study. And that presents an opportunity for fashion labels and retailers, especially if they incorporate sustainable and natural fibers like cotton into their assortments.
"My decision to work with cotton is driven by the fact that it is sustainable. I want to ensure that we are all doing what we can to protect our environment and our planet. If we could all just pay a bit more attention to protect the Earth, it will prolong its longevity in being a great home for us for a very long time.

Maya Wang, Founder & Designer, Fried Rice
A.Potts designer Aaron Potts, who will be presenting his Spring/Summer 2024 collection at the upcoming New York Men's Day shows in September, already understands the benefits of working with natural fibers, saying cotton is his go-to fiber choice.
"I love cotton for its simplicity and the fact that it can absolutely be seasonless given that it is so practical to wear," Potts says in an interview with the Lifestyle Monitor™. "It feels like a fiber that is alive because it's so active: it breathes, it wicks moisture, it can shape to the body after multiple wears, and it holds beautiful shapes depending on the weight. It can be as gossamer as chiffon but also as structured as a heavy duct cloth.
"There are amazing advancements with the modernization of cotton, especially around fabric washing and finishes," Potts continues. "But it also has a nostalgic feel to me as it reminds me of my dad's work jumpsuits, overalls and work jackets. It reminds me of going to the workwear and outdoor departments at Sears and Montgomery Ward with my dad when I was a little kid. Those images have been engraved in my mind and they definitely resurface in A.Potts."
The connection Potts feels to cotton gives some real Fabric of Our Lives vibes. And Potts' views are shared by most shoppers, as well. Fully 91 percent of consumers say better quality garments are made from all natural fibers, according to the 2023 Cotton Incorporated Lifestyle Monitor™ Survey.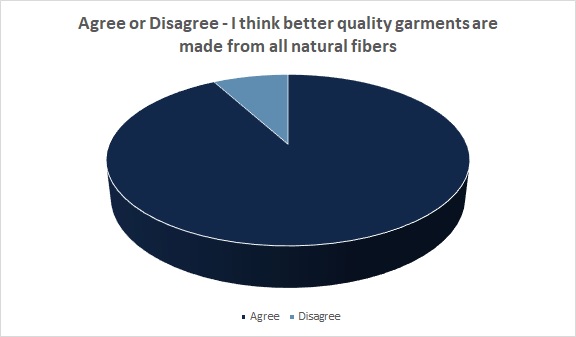 Further, 61 percent of shoppers say cotton is their favorite fiber or fabric to wear. They also say cotton is the softest (79 percent), most comfortable (78 percent), most sustainable (78 percent), and highest quality (73 percent), according to 2022 Monitor™ Survey research.
Further, the majority of shoppers associate cotton and cotton blends as breathable (80 percent), according to Monitor™ research. They also say it keeps them warm (72 percent), keeps them cool (66 percent), and is hypoallergenic, according to 2021 Monitor™ Survey data. Because of all these qualities, nearly three-quarters of all consumers (68 percent) say they would pay more for clothes made from natural fibers such as cotton.
Fried Rice's Maya Wang, founder and designer of the New York-based brand, has sourced cotton fabrics in both current and upcoming collections for shirts, jackets, and pants. The designer says whether it's used by itself or mixed with other fabrics, cotton stands as the core basis for Fried Rice's designs, given its versatility.
"I love cotton," Wang says in an interview with the Lifestyle Monitor™. "The fabric is so breathable and comfortable on our skin and body. Most of my own clothes are all made of cotton. I love how the fabric makes me feel, bringing me comfort and happiness."
"Secondly," Wang continues, "my decision to work with cotton is driven by the fact that it is sustainable. I want to ensure that we are all doing what we can to protect our environment and our planet. If we could all just pay a bit more attention to protect the Earth, it will prolong its longevity in being a great home for us for a very long time."
Nearly 8 out of 10 consumers consider cotton (79 percent) and recycled cotton (75 percent) sustainable and safe for the environment, according to 2017 Monitor™ research. And most consumers typically check labels, online descriptions or hang tags for information about the sustainability/environmental friendliness of a clothing item. So, garments that have such labeling stand to benefit.
The planet would also benefit if more apparel brands move to natural fibers. Across all segments of the industry, fossil fuel-based textiles like polyester, nylon, and acrylic are used heavily, even though these fabrics are responsible for microplastic fiber pollution and can take up to 200 years to decompose. These fibers come from our clothes, especially during the laundry cycle, when nearly 730,000 synthetic fibers can wash out with the effluent into our waterways, where they enter our food and water supplies.
Cotton Incorporated's Mary Ankeny, vice president of product development and implementation operations, says there is a growing interest in understanding how textile fibers may be contributing to the overall total in the rate microfibers endure in our water streams.
"The research shows natural, cellulosic fibers such as cotton break down faster than man-made fibers," Ankeny says. She explains how cotton also breaks down relatively quickly even if it's been treated with finishes. "Research shows how cotton treated with commonly used textile finishes such as silicone softener, durable press finish and a water-repellent finish do biodegrade by more than 60 percent in aquatic environments after 100 days. It has been shown that in various aquatic and soil-based environments, there are microbes which will digest cellulose. This is not the case for synthetic materials such as polyester."
Ankeny says from a textile dyeing and finishing perspective, Cotton Incorporated has been developing more sustainable chemistry choices as well as more efficient processes that use less water and energy to achieve a similar or an enhanced fabric performance. She says this includes qualities such as cationic (dye-friendly) cotton, formaldehyde-free finishes, elimination of fluorochemicals in moisture-management applications, abrasion-resistant finishes that enhance the durability and longevity of a garment, spray, or foam application of finishes as well as laser-etching effects on denim and other fabrics.
In Madewell's latest "Do Well" circular business report, the company says it is "doubling down" on sustainability with an end-to-end denim strategy. Highlights of the report include Madewell's aim for 12 percent of its denim line to contain regenerative denim by this fall, as well as expanding its bluesign-approved denim styles. Bluesign is an independent certification of raw materials that eliminates harmful chemicals at every step of the supply chain. Madewell is also looking to have 100 percent of its materials sustainably sourced by 2025.
When thinking about modern fashion, nearly half of consumers (45 percent) say cotton is best for today's styles, according to the 2022 Monitor™ research.
Perhaps that's why it's not just established brands that putting natural fibers front and center in their collections. Par (x) is a new name in golf wear, and it's establishing itself as a plant-based, performance golf brand. The company offers both men's and women's golf apparel made from cotton that is fortified with Filium® technology, whose benefits include water repellency, moisture wicking, and stain resistance. Par (x) is positioning its clothes as performance wear that is also earth friendly. It says its performance tech works with natural fibers like cotton, without sacrificing features like cotton's soft hand and breathability. Founder Raj Shah says, "Lower your handicap and carbon footprint with Par (x) Golf."
Performance technologies for cotton are in demand, and Cotton Incorporated has developed a whole host of innovations that will keep users comfortable whether they're on a golf course, in a gym or heading to work. The technologies include STORM COTTON™ Technology, a durable water-repellent finish for any cotton garment that can outlast standard finishes. TransDRY® Technology combines the comfort of cotton with moisture-wicking technology that rivals any competitive fiber in the market. PUREPRESS™ cotton technology is a durable press finish that keep clothes wrinkle free, while adding strength to the garment. And NATURAL STRETCH Technology provides comfortable stretch without the use of any spandex, which is a synthetic fiber.
For his part, Potts is using all manner of cotton weights and textures for his current and upcoming collections.
"For Autumn/Winter '23, I used a gorgeous heavy-weight cotton twill and a stretch cotton jersey for layering," Potts says. "I love the purity of cotton alone, color-blocked, or even fabric-blocked with contrast textures or tech fabrics. Cotton is also the predominant fiber I'm using for my upcoming Spring/Summer 2024 collection, building off of my usage of the fabric for my autumn collection. For SS24, I'm using many weaves, patterns and textures of cotton including denim, yarn dye stripes, twills, embroidery and super crisp poplins."
Wang also says she'll continue to use natural fibers like cotton in her garments because Fried Rice respects that fabric is not only part of a given garment, but also — more importantly –she believes it can bring a deeper connection and positive energy to their wearers.
"I like to see the journey of cotton that is grown from the ground and then translated into a finished garment piece," Wang states. "When people wear Fried Rice, they can feel that connection, which not only extends the fabric's journey but also creates an interactive conversation between Earth and us."