When it comes to sustainability, apparently there is a disconnect between what shoppers want and what retailers offer. In a survey from First Insight, the predictive analytics firm found consumers want to make more sustainable purchases and are willing to pay more for them. Additionally, Millennials through Boomers define sustainability primarily by the materials used to create a product. When surveyed though, retailers simply don't seem to believe what consumers are saying. Fortunately, some brands are on top of the sustainability conversation, and they've taken consumers' desire for natural fibers to heart.
Today, over 80 percent of our material footprint is from natural fibers (cotton, cellulosics, wool, and leather), and we believe natural fibers are the right place to continue focusing our attention.

Liz Hershfield, Senior Vice President of Sustainability, Madewell
"At Madewell, cotton represents over 70 percent of our material footprint and denim is a large piece of that," says Liz Hershfield, senior vice president of sustainability. "We believe in using natural fibers, and we are focused on continuing to develop the majority of our products to use them."
Eileen Fisher also predominantly uses natural fibers in its collection.
"Natural fibers are renewable, durable and increasingly becoming important in supporting circularity initiatives because they have a potential for recovery and reuse for higher value in second or third life textile-to-textile recycling," says Eileen Fisher's Inka Apter, head of fabric R&D. "Synthetic fibers make up a very small portion of our fiber portfolio and they are used for the purpose of adding performance (such as stretch) or other functional aspects (such as fill in the outerwear styles)."
And PacSun's Mallory Watson, women's design director, says natural fibers are very important to the brand's design team when they're working on apparel for future seasons.
"We've seen natural fibers such as cotton up-trending for our customer in categories like sweaters, which was previously a primarily synthetic fiber category, and we love how beautifully these fibers are able to execute stitch patterns," Watson says. "Also, our denim business has transformed to be primarily all natural fibers, which as a design team we love, as we are able to create a vintage-inspired wash range for our customers."
This uptick in cotton interest is reflected in research that shows cotton, denim, or cotton blends are consumers' favorite fabrics to wear, according to the Cotton Incorporated Lifestyle Monitor™Survey. Further, offering more natural fibers makes sense as most consumers (62 percent) say they regularly buy apparel made from sustainable, environmentally friendly or natural materials, according to research from Cotton Council International (CCI) and Cotton Incorporated's 2021 Global Sustainability Survey. Overall, more than half of all shoppers (58 percent) say sustainability/environmental friendliness influences their apparel purchases.
With that sustainability concern in mind, nearly 9 in 10 consumers (87 percent) say cotton is safe for the environment, according to the Global Sustainability Survey research. Further, 91 percent say better quality garments are made from all-natural fibers. And, echoing the First Insight survey, 71 percent of shoppers say they would pay more for natural fibers such as cotton. The figure significantly increases to 78 percent among Millennials, according to Monitor™ research.
Almost all consumers, 9 out of 10, say they think better quality clothes are made from all natural fibers such as cotton. While sustainability is not a top purchase driver, almost three-fourths are likely to look for clothing made from natural fibers and shoppers associate natural fibers with sustainability. There's a large gap between natural and synthetic fibers and perceptions of safety and the environment. Natural fibers (and price) are the main way consumers say they determine if a clothing item is sustainable.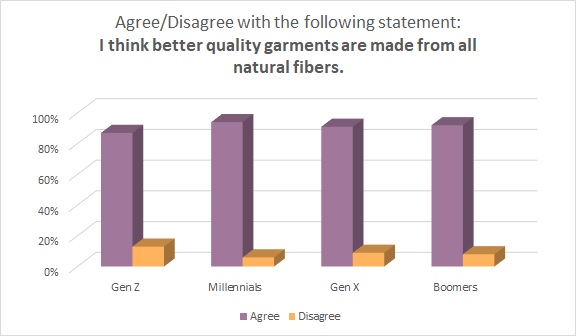 Eileen Fisher's Apter says more and more, the brand is seeing shoppers becoming attracted to its sustainability story and values.
"We have always tasked ourselves with being a force for good – and a driver of the change we want to see adopted throughout the entire industry," Apter says. "[Consumers] appreciate natural fibers in our collection and we strive to educate them on the complexities of sustainable choices and impacts of all materials, including the natural fibers."
While consumers may be more interested in sustainable and natural fibers, PacSun's Watson says change still needs to be brand-driven.
"I think it's our job to teach them about eco apparel, sustainable fibers and low-impact dye/wash techniques," Watson says. "I do believe that we've seen success in some of our initiatives at PacSun because we do have a very informed youth customer. However, I think that as a team we need to continue to bring them the fashion that they want, and continue to find more sustainable ways to produce it."
Consumers say sustainability has an influence on what they purchase because they feel it's important that they make ethical purchases (67 percent), according to the Global Sustainability Survey research. They also view sustainable clothes as higher in quality (64 percent). Additionally, shoppers say it is important to do whatever they can to improve the environment — and buying sustainable apparel is a step in that direction (64 percent).
That explains why nearly three-quarters of all consumers (72 percent) say they are likely to look for clothing that is made from natural fibers such as cotton, wool, and silk, according to the Global Sustainability Survey research.
For its part, Madewell is leaning into the natural/sustainable fiber story. Hershfield says more than 83 percent of its spring assortment, and more than 95 percent of its spring denim have at least one sustainable component.
"Sustainability is ingrained into who we are at Madewell, which our shoppers know and love," Hershfield says. "Today, over 80 percent of our material footprint is from natural fibers (cotton, cellulosics, wool, and leather), and we believe natural fibers are the right place to continue focusing our attention."
The same attitude is reflected in PacSun's upcoming offerings.
"Our Spring 2023 denim collection will mostly feature sustainably sourced cotton in all our rigid denim and our comfort stretch iterations," Watson says. "Natural fibers are very important to us on the design team since we are mostly inspired by vintage apparel when recreating pieces for our PacSun customer. And a majority of these vintage tees, jeans and sweatshirts are all made from natural fibers, pre- the synthetics era. We love how the handfeel improves with wash and wear, and the colors get that perfect worn in fade."