When people go through their closets, they usually end up with three piles: what to keep, what to donate and what to just throw out.  Unfortunately, the U.S. has become pretty comfortable with discarding clothes. But as we head to America Recycles Day on Nov. 15, the drumbeat for a more sustainable industry has steadily become louder and more accepted.
On America Recycles Day, the Environmental Protection Agency (EPA) recognizes the importance and impact of reusing what we already have. The agency says the country's recycling rate has increased from less than 7 percent in 1960 to more than 35 percent now. In fashion, recycling takes form in some creative ways: vintage and thrift shops that sell second-hand clothes; programs like Cotton Incorporated's Blue Jeans Go GreenTM denim recycling program, which collects old denim and turns it into natural cotton fiber insulation; and makers who work with recycled textiles and clothes to reconstruct new garments.
[quote]
Designer Edden Pena designs and creates the pieces in his Sold Out Skater collection entirely or in part from thrift and vintage garments, as well as recycled textiles. He might deconstruct two sweatshirts or T-shirts and sew them back using different pieces from each. From there, he adds contrasting fabric and other embellishment to make limited edition designs.
"I grew up wearing hand-me-downs," the self-taught, Clifton, NJ-based designer says. "As a kid, I'd go to explore the mall but I didn't find that much that I liked. So, I always wanted to make my own clothing. When I started out, I used the hand-me-downs, and now I like getting them from other people. In my designs, I can use what's out there already, and what people like, and just mix it up and recreate it. That's my style and that's the skater style. And I'm getting a lot of people that actually love the fact that it's one-of-a-kind. And they like that it's using thrift. Everybody's into thrifts."
In its report, "Resale Growth & the Impact of COVID," Thredup says the secondhand market is set to hit $64 billion in the next 5 years. And by 2029, resale, as well as traditional thrift and donation are expected to grow to almost twice the size of fast fashion.
Edited's retail analysis, "The Sustainability EDIT 2020" says, "Despite how COVID-19 has disrupted retail in 2020 and the foreseeable future, sustainability commitments are still critical across business agendas." The report highlights designers that worked sustainable elements into their Spring 2021 collections. For example, Stella McCartney created dresses using overstock; Y-Project reworked 16 of its signature pieces into more sustainable versions, including using recycled fabrics; and Ahluwalia formed its full collection out of repurposed vintage garments and deadstock fabric. Further, Marques' Almeida didn't even create a new spring collection. Instead, the label pledged to use more sustainable materials going forward.
This move toward sustainability by both the consumer and the industry couldn't have come soon enough. The Environmental Protection Agency (EPA) estimated Americans generated 17 million tons of textile waste in 2017. Of that, just 2,570 tons are recycled and 11.15 million tons end up in landfills, up from 1.7 million tons in 1960. Essentially, one garbage truck of textiles is sent to the landfill every second, according to the San Francisco Goodwill.
When asked how concerned they are personally about waste management/landfills, more than 6 in 10 consumers are "somewhat or very concerned," according to Cotton's 2020 Spring U.S. Coronavirus Response Survey. Additionally, 65 percent of all shoppers have become more concerned about these issues since the start of the COVID-19 pandemic.
Those consumers looking to lessen the load that's sent to U.S. landfills can take part in Cotton's Blue Jeans Go GreenTM #DenimStackChallenge. The challenge invites consumers across the country to look into their own closets, stack their denim, snap a picture and share it on Instagram. After that, they can recycle the old denim that they no longer wear by dropping it off at a participating retailer or mailing it in for free via Zappos for Good.
The denim that's collected is then broken down into its natural cotton fiber state, and then transformed into something new like housing insulation, a portion of which is distributed to organizations to help building efforts throughout the country. The program not only diverts denim textile waste from landfills, but it also educates consumers on cotton's natural lifecycle, encourages denim recycling and gives back to the community.
The average American owns 6 pairs of jeans and 10 pieces of denim, according to Cotton Incorporated's 2020 Lifestyle Monitor™ survey. Further, 64 percent of consumers say they only regularly use (wear every week) about 20 percent of the clothing that they own, according to Cotton Incorporated's 2019 Retail and Sustainability Trends Survey. This should make recycling some of it a little easier.
Another incentive for consumers to recycle their denim: retailers like Ariat, De + Clo, Garage, Industry Standard, Levi's, Madewell, and rag & bone offer discounts toward new denim apparel when they drop off an old pair.
Today's consumers care about sustainability/environmental friendliness so much that they consider it to be important to their purchase. Nearly 9 out of 10 shoppers (86 percent) say it's significant when they're looking for clothes they plan to purchase, ranging from "slightly important" (31 percent), to "somewhat important" (36 percent) to "very important" (19 percent), according to Cotton's 2020 Spring U.S. Coronavirus Response Survey. These results are higher compared to a more recent September Lifestyle MonitorTM survey where 49 percent say environmental friendliness is an important factor in their clothing purchase decision.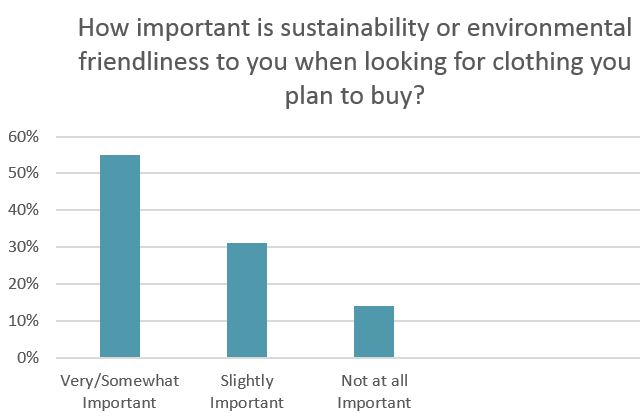 Before the pandemic hit, Coresight Research pointed to younger consumers for the push toward more eco-friendly product and practices in the fashion industry. The company cited a First Insight survey that said 62 percent of Gen Z shoppers prefer to buy from sustainable brands, while 73 percent are willing to pay more for sustainable products.
These young consumers, as well as everyone else should find a lot of sustainable choices in the coming months. Edited's Kayla Marci, market analyst, says the COVID-19 pandemic likely will see product from 2020 recycled into Spring 2021 offerings.
"Since stores closed and supply chains were compromised during the initial lockdown, there's a strong chance consumers haven't seen everything retailers had to offer over that period," she explains. "The recent Spring 2021 runway has confirmed the longevity of trends such as influences from the '70s and '90s, and ultra-feminine cuts, which have been relevant for some seasons now and will continue to generate interest for styles that resonate with these overarching themes."
Marci acknowledges the journey from a fast fashion-driven industry to one that is making meaningful change will require a lot of work.
"Retailers need to go beyond simply repurposing materials for a one-off collection, and reconsider how their entire processes can eventually become circular season-on-season," Marci states. "Additionally, it's becoming harder for brands to justify dropping an infinite amount of new products per week. While there is still demand for newness by consumers, especially the younger generation who has grown up on fast fashion, there is the voice of a more conscious customer that is starting to get louder and demanding that brands have a responsibility to educate as well as evolve their traditional practices to create a greener future of fashion."