Boomers Still Vital, But Gen Y Shows the Love
Millennials are often characterized as not having money for rent but — perhaps to the frustration of wannabe-empty nester parents — they sure find the cash for new clothes.
Retailers who do not fully understand and engage the Millennial customer may eventually find their strategies out of touch with the future core shoppers.

Synchrony Financial
The Pew Research Center recently revealed that in 2014, for the first time ever, young adults ages 18-to-34 were more likely to be living in their parents' home than with a spouse, partner, or friends in their own household.
Meanwhile, Millennials spend nearly $900 a year on apparel, which is 65 percent more than the Boomer generation, according to the Cotton Incorporated Lifestyle Monitor™ Survey. And when asked their feelings about clothes shopping, 62 percent of Millennials say they love/enjoy shopping, compared to 39 percent of Boomers.
What gives?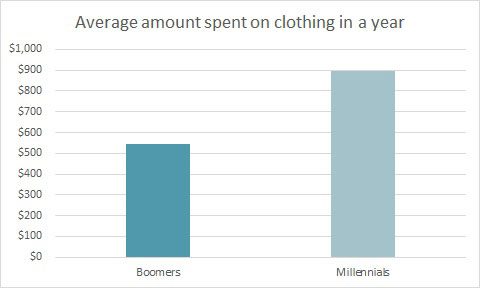 There is simply more discretionary income for the younger set, which, at roughly 75 million people, represents one-third of the total U.S. population, according to the Council of Economic Advisers (CEA).
Millennials are not just shying away from moving out, they're also slow to buy a home, according to Zillow.com. And the AAA Foundation for Traffic Safety reported the number of cars sold to people ages 18-to-34 fell by almost 30 percent from 2007 to 2011. Add to that, Millennials who are in relationships are waiting to start their family, according to a report from the CEA.
And luckily for Fashion Avenue, both male and female Millennials like spending their money on clothes. Among young women, 47 percent shop for apparel more than twice a month, according to The Boston Group. That compares with 36 percent of non-Millennials. The a retail consulting firm found the difference even more notable among men, with 38 percent of Millennials shopping more than twice a month versus 10 percent of non-Millennials.
Of course, mobile shopping has grown tremendously in just the last few years. In 2013, mobile accounted for 16 percent of total retail e-commerce sales, according to Statista, but had grown to 32 percent by this year, and is expected to reach 41 percent by 2019.
Perhaps not surprisingly, as Millennials are accused of never putting their phones down, the group shops for clothes online 43 percent more often than Boomers, according to the Monitor™ data. Nearly 8 out of 10 Millennial consumers browse for apparel online using their smartphone, significantly more than the nearly 3 out 10 Boomers. And 51 percent of Gen Y shoppers buy apparel on their phones, versus just 13 percent of the older generation.
While mobile shopping has shown its strength, both generations still prefer the store experience for browsing and buying. Boomers, though, are more likely to browse in-store (61 percent versus 43 percent), the Monitor™ data shows. Meanwhile, Millennials are significantly more likely to browse for apparel on social media sites (9 percent versus 0.)
Millennials have a very strong social presence. Datamentors reports 79 percent of the Gen Y audience uses social media like blogs, Facebook, Twitter, and Instagram, "with many spending as much as 2-to-3 hours on these sites per day." They're influenced by their friends' posts when making a buying decision, and they use social to contact and engage with retailers and brands.
When it comes to actual buying, the Monitor™ finds three-quarters of Boomers prefer shopping in-store, which is significantly more than 67 percent of Gen Y shoppers.
A joint study by A.T. Kearney, the global management consulting firm, and The NPD Group, found that Millennials dominated the purchasing in four key apparel categories: jeans, dresses, activewear, and bras. However, the study also points out that while age is an important factor to consider, life stages, lifestyles, and attitudes toward fashion must also be examined when trying to connect with shoppers. But regardless of age, the majority of Millennial and Boomer shoppers (75 percent) say cotton is the fiber best suited for today's fashion, according to Monitor™ statistics. Additionally, more than half (53 percent) say they're willing to pay more for natural fibers such as cotton.
The A.T. Kearney/NPD findings show about 18 percent of Millennials are heavy purchasers of jeans, compared to 8 percent of Boomers. Of note: the study defines "heavy purchasers" as those who bought three or more items in the same category. Millennial women also love dresses, as they're 2.4 times more likely than Boomers to be heavy purchasers. When it comes to activewear, Millennials account for heavier purchasing than any other generation, with Gen Y at 20 percent and Boomers at 11 percent. And in the bra category, younger women constitute 26 percent of the heavy buying, versus 18 percent of Boomer females.
In an article in Stores magazine, RSR Research's Paula Rosenblum, co-founder and managing partner, said even though the Millennial generation was weaned on fast fashion, they put a strong value on quality.
This dichotomy between what Millennials want and what they'll buy is reflected in the Monitor™ data. When asked if they'd rather buy clothes that are more fashionable or higher in quality, 43 percent of Millennials chose "more fashionable," while 57 percent said, "higher in quality." But Boomers are more definitive, with 82 percent choosing quality, versus 18 percent who chose "more fashionable."
In its report, "Balancing Multi-Generational Retail Strategies," Synchrony Financial points out that Boomers — 65 million strong with the most disposable income — are a retail force that accounts for almost 50 percent of retail sales compared to Millennials 10 percent. But stores and brands have to focus on all generations as to not be one-sided, the group advises.
Writes Synchrony: "Retailers who do not fully understand and engage the Millennial customer may eventually find their strategies out of touch with the future core shoppers."