The phrase "you get what you pay for" has probably been around since people had to start actually paying for things. In the garment industry though, the proliferation of fast fashion stores has created a generation of consumers who believe clothes are disposable or they're getting ripped off if they pay more than a few dollars for a shirt.
We are in the early stages of a radical transformation in retail…Consumers are prioritizing sustainability, retailers are starting to embrace resale and policy makers are getting on board with the circular economy."

James Reinhart
Co-Founder & CEO, ThredUp
But that mindset is rapidly evolving, as concerns about climate change and the pandemic have consumers focusing their attention on more sustainable and ethical apparel.
"We are in the early stages of a radical transformation in retail," says ThredUp's James Reinhart, co-founder and CEO. "Consumers are prioritizing sustainability, retailers are starting to embrace resale and policy makers are getting on board with the circular economy."
Indeed, McKinsey & Company's State of Fashion 2022 report states that as sustainability becomes a more urgent consideration, brands need to ramp up their efforts to reflect customer values in their assortments, supply chains, and ways of working.
McKinsey's report cites Claire Bergkamp, chief operating officer at Textile Exchange, a nonprofit aimed at improving the environmental standard of raw material production, who says designers need to be intentional going forward, especially if resale of the product is to take place.
"What's going to happen to the product when the first user is done with it?" Bergkamp asks. "Is it durable? Will it have a long enough life? That's the crux. If you are intentionally making something that is not long lasting, it needs to be recyclable."
Since the pandemic hit, the majority of consumers (74 percent) say they plan to limit their wardrobe in the future, according to Cotton Incorporated's 2021 Coronavirus Response Consumer Survey (Wave 4, November 2020). And 80 percent say they'll be focusing on classic pieces that will last.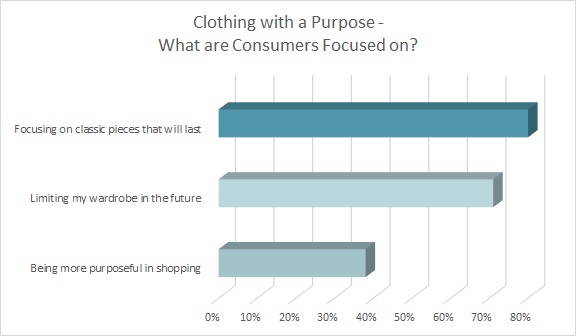 Additionally, the majority of consumers (52 percent) are more receptive toward paying more for better quality apparel, according to Cotton Incorporated's 2021 Lifestyle Monitor™ Survey. The percentage willing to pay a premium for quality has been rising steadily since 2011, when just 45 percent said they would choose price over quality.
Designers and manufacturers should note that most consumers (62 percent) see fiber content playing a role in determining the longevity of their clothes. Most consumers (69 percent) expect cotton to last longer than manmade fibers, with 29 percent speculating it will last more than a year longer than clothes made from synthetics, according to Cotton Council International and Cotton Incorporated's 2020 Global Durability Study.
Further comparison to manmade fiber apparel reveals more than 8 in 10 consumers (85 percent) say cotton clothes are their favorite to wear, most comfortable (84 percent), softest (84 percent), most sustainable (78 percent), highest quality (72 percent), and last the longest (56 percent), according to the Monitor™ research.
Designers should take note that a Journal of Marketing study released last year proposed high-end goods possess the unique trait of being more sustainable and durable than ordinary products.
"Sustainable luxury can be a paradoxical concept for consumers because many of them neglect the durability inherent in luxury products," write Jennifer J. Sun, Silvia Bellezza, and Neeru Paharia in their study, "Buy Less, Buy Luxury: Understanding and Overcoming Product Durability Neglect for Sustainable Consumption."
The study suggests brands focus on the durability aspect of sustainability. "[It] can be an effective marketing strategy for high-end brands to promote their products while at the same time helping consumers engage in more sustainable consumption practices. That is, emphasizing product durability may shape consumers' actual purchase behavior while promoting an attribute central to luxury brands."
The authors of the study point to Patagonia's "Buy Less, Demand More" ad that argues purchasing fewer but more durable Patagonia garments is good for both consumers and the environment.
In these days of pandemic uncertainty, most shoppers (84 percent) say it's important that the clothes they purchase are durable enough to last a long time, according to the Durability Study. And the majority (70 percent) are likely to look for durability enhancement features to extend the life of the apparel they buy.
To that end, Cotton Incorporated's TOUGH COTTON™ technology is a proprietary finish that brings enhanced durability like abrasion resistance, strength, and colorfastness to categories that include outerwear, childrenswear, denim, yoga, and activewear.
Cotton can also be used in Invista's Cordura branded fabrics to create cotton-rich garments that have added strength and durability while maintaining their comfort. And Dyneema® is a high-strength, low-density polyethylene substrate that increases the durability of a high-cotton garment, yet maintains its softness and comfort — all while reducing rips, snags, and punch-throughs in the fabric.
Such technologies stand to prove valuable to brands as 58 percent of consumers say quality and durability (49 percent) are very important in their clothing purchase decisions, and 77 percent say better quality garments are made from all-natural fibers such as cotton.
In addition to its strength, cotton is better for the environment than synthetic fibers when garments reach their end-of-life phase. Research shows cotton degrades 99 percent more than recycled polyester after 84 days in a compost environment, and 95 percent more than polyester after 250 days in wastewater.
"[W]e recommend that marketers and brand managers of high-end products emphasize the durability of their products to help consumers overcome product durability neglect," reads the Journal of Marketing study, "and nudge them towards buying fewer, better goods for a more sustainable future."