New York Fashion Week has just wrapped and attendees' heads are spinning with all the creative confections that were presented by hundreds of designers. Meanwhile, retailers and brand marketers are working overtime using every tidbit of information they can about consumer preferences to give shoppers what they want, when they want it, faster than ever — yet in an engaging and uniquely personalized way. It gives a whole new meaning to creativity.
At the National Retail Federation Big Show 2018, Tommy Hilfiger spoke about how his company has embraced technology to keep his brand at the forefront.
"We depend on AI (artificial intelligence)," Hilfiger said, "We were the first to do a chatbot with Facebook (Messenger)," he said. "And we really believe in Snap:Shop (an app that lets consumers instantly shop items from the moment models hit the runway). A few years back we decided we needed to be technically advanced with incorporating our DNA into whatever we're doing."
One of Hilfiger's latest advances is a digital showroom that has no garments, but allows buyers to view a big screen that they can also view from home. From this, they make their apparel, shoe and accessory selections, put them in the different store doors and choose their floor plans, "and basically in a couple of clicks, have their entire seasons mapped out," Hilfiger said. "When you have a lot of info in the cloud, with a click it becomes available to you."
While designers might hope their designs alone will sell their product, stores and brands have come to realize higher levels of technology are necessary to build sales both online and in-store. Currently, just over half of all consumers (54 percent) say they love or enjoy clothes shopping, according to the Cotton Incorporated Lifestyle MonitorTM Survey. Seven of 10 purchases are planned, with shoppers buying clothes 19.2 times per year in-store and 8.4 times online. MonitorTM data shows two of five consumers (43 percent) would be interested in apparel brands and retailers using virtual reality to enhance their shopping experience either online or in a physical store.  This percentage increases with younger consumers.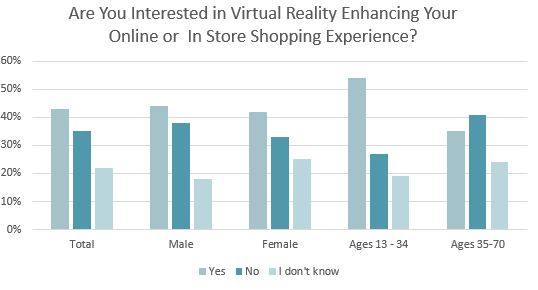 But of all the clothes being sold and all the inspiration that's to be found everywhere, most consumers (63 percent) say their main source for clothing ideas is what they already own and like, according to the MonitorTM research. Also, the largest percentage (24 percent) shop at mass merchants like Walmart and Target, followed by chain stores like JC Penney and Kohl's (22 percent) and then department stores like Macy's and Dillard's (15 percent).
That leaves a lot of room for stores to figure out exactly what consumers actually like, and how they want to shop for it.
Nancy Johnson, founder, president and CEO of Optimyze, a product development consultancy, says multiple forms of technology are essential to staying competitive in today's fashion business.
"Whether it's through their marketing, or their stores, or information they're capturing at their point of sale, all of those types of things are allowing companies to create their competitive advantage by using big data," Johnson said during a panel discussion during New York Fashion Week, presented by the newly launched AFO Collective, a fashion consultancy.
Nesli Danisman, founder of Angora Group, a product management consulting firm, was also on the AFO Collective's panel and mentioned new RFID (radio frequency identification technology) hangers move from the sales floor to checkout to track what individual customers are buying, allowing stores to sculpt future marketing for each particular shopper.
Anthony Bruce, CEO, of Applied Predictive Technologies, a MasterCard company, says his firm helps retailers and brands test and learn about any new retail action on a small scale, before doing a full rollout.
"Prior to putting in new fixtures or rolling out new product or changing operating hours, our philosophy is try it first," Bruce explained at the NRF Big Show. That includes more tailored communications with consumers. He explained how data drawn from a test run could prove to be successful.
"We have a client that sent out 2 million pieces of marketing, but there were one million versions," he explained. "This meant, 'we know you like this brand,' or 'you're much more interested in this category than that category.' And not surprisingly, it was massively successful. In the test, they did their generic marketing that they always did and compared it to what happened if we talked to people based on what their past purchases were. Not surprisingly, they were 70 percent higher when they did that. In pricing and marketing there will be more of that going forward — and it makes sense."
Beyond data, Optimyze's Johnson says other applications are helping to put a new spin on the customer experience. "Companies are starting to do things with augmented reality (AR) like AR mirrors that allow you to walk into a fit room and see different things on your body."
To that end, Tabea Soriano Hughes, managing partner at Futuremade, a sustainable fashion consultancy, said Zara was meeting the tech challenge with its new pop-up store in London.
"The space is primarily so consumers can go in to place online orders, and make returns and exchanges," she told the AFO Collective audience. "Associates have big iPads to help customers with selection. But the retail space isn't for store inventory, but more for larger fitting rooms and interactive mirrors. If you try on one item, the mirror shows other recommendations in suitable sizes and colors."
Customers can check out via the Zara app, with their smartphones or with self-checkout. Delivery can be same- or next-day.
Danisman also pointed out that as brands aim to become ever-more personalized, fit is becoming its own science.
"LVMH has bought shape-shifting mannequins that expand into multiple sizes to adjust in a much more customized way," she said. "It's super exciting to see how that evolves."
For most consumers (75 percent), fit is the top factor when making an apparel purchasing decision, according to MonitorTM research. That goes for whether people are slow to change styles (38 percent) or consider themselves "fashionistas" (36 percent).
"Retailers should be more specific in every way we can, to take advantage of patterns of success," APT's Bruce said. "And with today's technology, even though we never truly know, we can better guess what to do in every situation. And those that invest in these tailored and targeted responses are the ones that are going to not just survive, but thrive."