Remember those videos from last month after Hurricane Ida tore through the south then brought its wrath to the Northeast, bringing such powerful flooding it looked like waterfalls were rushing into the New York City subway system? Reports say the apparel industry — synthetic fiber in particular — is playing a part in the forcefulness of recent weather events. That's why many sectors are taking active steps to curb fashion's effect on this global problem.[quote]
Some companies, like those in the denim and activewear markets, are already taking those steps, and it's not a moment too soon. After Ida's storms flooded New York City, Mayor Bill de Blasio said, "We're going to have to do a lot of things differently and quickly. What we have to recognize is the suddenness, the brutality of storms now. It is different."
Although initiatives have been talked about for years, as Edited points out in its recently released Sustainability Edit 2021 report, the need for sustainability in fashion has never been more dire.
"It's no secret how wasteful and polluting the fashion industry is," the Sustainability 2021 report states. "From visibly staining African waterways blue to reportedly costing U.S. retailers $50 billion a year from deadstock alone. Sustainability is a multi-pronged issue with several complex factors that are often challenging for consumers to grasp as well as trust, adding to the growth of greenwashing within the industry.  It will take more than a recycled capsule collection to solve the problem — effort from retailers, consumers and government bodies are all required."
The majority of consumers (76 percent) say cotton is safe for the environment, compared to less than half who say the same for rayon/viscose (31 percent), Lycra/spandex (32 percent) or polyester (32 percent), according to Cotton Incorporated & Cotton Council International (CCI) 2021 Global Sustainability Survey.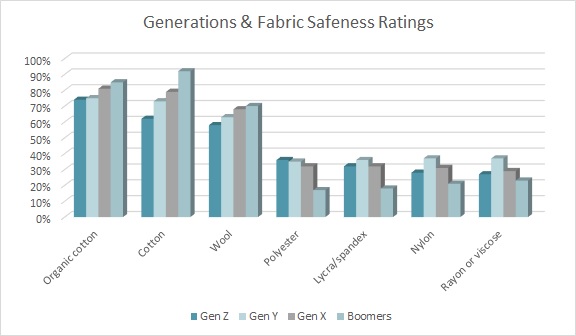 Manufacturers who want to increase their sustainability factor while meeting shoppers' needs should keep in mind that 74 percent of consumers say cotton is their favorite fabric to wear, according to the 2021 Cotton Incorporated Lifestyle Monitor™ Survey. Fully 93 percent say better quality garments are made from natural fibers such as cotton.
Further, nearly half of all consumers (49 percent) say environmental friendliness is an important factor in their clothing purchase decisions, according to Monitor™ data. Nearly one-third say they "always/usually purchase" clothing that's marketed as sustainable (30 percent), followed by environmentally friendly (24 percent) and recycled (20 percent). More than 2 in 5 consumers (43 percent) say fiber content is the most beneficial factor for determining how long an article of clothing will last. And makers should note that items made of 100 percent cotton are kept 1.5 years longer than items made with less or no cotton, according to the CCI and Cotton Incorporated 2020 Global Durability Survey.
But whether it's denim or activewear, today's consumers also like performance features like stretch and durability. Cotton Incorporated's Natural Stretch is a mechanical stretch technology designed for 100 percent cotton woven fabrics. It provides ultra-comfortable stretch combined with the natural softness of cotton, but without having to use any synthetic like spandex. It can be used in woven shirtings and bottoms, as well as denim.
Cotton Incorporated has also applied its TOUGH COTTON™ and STORM COTTON™ technologies to new canvas developments. Already, STORM COTTON™ has been available as a water-repellent finish for cotton knits, wovens, denim, sweaters, fleeces and outwear. The technology repels moisture from the surface of the fabric, while maintaining the natural comfort and breathability of cotton. And it dries faster than untreated cotton. Meanwhile, STORM COTTON™ technology is engineered specifically for denim to repel liquids, while allowing moisture vapor to pass through from the wearer out into the environment, keeping them more comfortable. The STORM COTTON™ technology can also be combined with antimicrobial agents to keep jeans fresh and clean with each wear. And the technology is 96 percent biobased, certified by the USDA BioPreferred Program®.
Mavi is a brand that's been looking to make a sustainable difference. It's All Blue collection is developed and produced using laser technology and eco-conscious washing techniques that use less water, energy, and processing. The line employs both recycled and pre-consumer cotton fabrics.
PacSun is also involved in recycled denim, and joined up with Cotton Incorporated's Blue Jeans Go Green™ Denim Recycling Program with its "PacDenim For A Better Tomorrow" initiative. Consumers who drop off used denim made with at least 90 percent cotton or greater at in-store bins will receive $10 off their next PacSun denim purchase. The brand also recently launched last month its first fully dedicated gender-neutral brand, Colour Range, which is a collection of all eco-conscious and sustainable clothing.
The activewear market has more work to do when it comes to using sustainable fabrics. As Vogue pointed out last year, the pandemic saw consumers move en masse into stretchier athleisure pieces — and that's very often meant synthetic fibers. "But the irony is that as fashion gets softer, stretchier, and more personal, it's also getting further away from its sustainability goals," the publication stated. Under Armour is working on its sustainability game, though, offering an assortment of Charged Cotton items for both men and women. The fabric is made of cotton and features Cotton Incorporated's TransDRY® technology, which allows cotton fabric to wick and spread perspiration as well as, or better than, most high-tech synthetic fabrics.
Edited's Sustainability EDIT 2021 report adds that Adidas is looking to make more than 60 percent of its products from recycled polyester or use sustainably grown cotton within its Primeblue and Primegreen labels. However, the brand is looking to use only recycled polyester by 2024. Currently, just 14 percent of all polyester is made from recycled materials. But recycled polyester is still polyester. And polyester, nylon and other synthetic materials are contributing to the microplastic pollution that's entering global water bodies. The Plastic Soup Foundation, a marine conservation non-profit that aims to reduce plastic pollution, estimates synthetic clothes are responsible for up to 35 percent of the primary plastic that's polluting the Earth's oceans.
The Sustainability EDIT 2021 report says retailers need to "look beyond responsible fabrics to the afterlife of a product to ensure true sustainability."