New York Fashion Week just wrapped, and with it and all the crowds, glamour, and fabulous apparel. But one of the most important parts of any garment – something that's actually required by federal law whether it's high fashion or mass market – is the clothing label. And these mandatory labels present an opportunity to generate sales in a way that may not always be obvious.
"Clothing labels offer important information about the product, information which might just be the difference between an item being purchased or put back on the rack," writes Immago's David Marshall, CEO of the global label and packaging company. The firm offers care and content labels, swing tags, woven and non-woven labels, and plantable seed labels. "While often overlooked, clothing labels are an essential part of the apparel industry. They not only provide important information to your customers and represent your brand, but they're also legally required to have the correct information, which is why it is so important to get it right in the first place."
"Labels can be an effective instrument enabling communication with consumers…and are a possible major factor driving more responsible purchase decisions."

Małgorzata Koszewska, faculty of management and production engineering, Łódź University of Technology
For most textile and wool products, federal law requires a label that lists fiber content, country of origin and the identity of the manufacturer or another business responsible for the marketing or handling of the product, according to the Federal Trade Commission. And the Care Labeling Rule requires manufacturers and importers provide a permanent label with laundering instructions, as well.
The reality is shoppers want a lot of information about the clothes they're looking to buy and most (58 percent) say labeling is a "very important" source for that, according to Cotton Incorporated's 2023 Clothing Label Survey. Besides labels, consumers look for information about a garment through its online product listing (46 percent), the hang tag (41 percent), the company website (37 percent), and in-store displays (36 percent).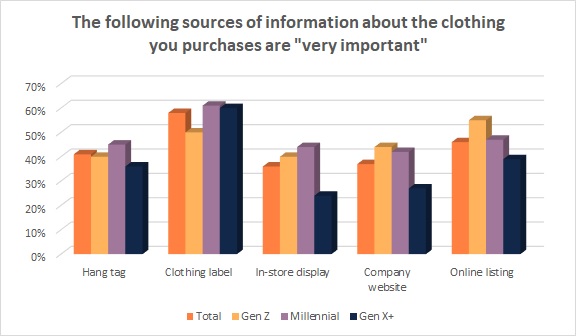 As it stands, consumers find it helpful that clothing labels include information about garment size (82 percent), description of garment care (80 percent), laundry symbols (66 percent), fiber content (61 percent), country of origin (50 percent) and website or QR code for additional information (46 percent), according to the 2023 Clothing Label Survey.
Consumers add that when they check a fiber content label, they want to know a garment's quality (52 percent), how comfortable it is (48 percent), how breathable the fabric is (47 percent), and how long it will last (40 percent), according to the 2023 Clothing Label Survey.
And aside from these bits of knowledge that shoppers find helpful, there is a laundry list of information consumers expect brands and retailers to provide. The majority of consumers (61 percent) expect brands and retailers to provide information on garment care, according to the 2023 Clothing Label Survey. That number increases to 75 percent among Gen X.
Many (up to 47 percent) of Americans state the country of origin, types of dyes or finishes, and fiber content as informative, while less than one in four want to know about sustainability initiatives, fiber sourcing of raw materials, or how to reuse or recycle the garment after it is used, according to the 2023 Clothing Label Survey.
Consumers say one of the pros about clothing labels is that they are convenient (72 percent), according to Cotton Incorporated's 2023 Clothing Label Survey. Unfortunately, 40 percent say clothing labels don't have enough of the information they're seeking, a figure that increases significantly to 47 percent among Millennials. And about 3 in 10 consumers (31 percent) say the labels are confusing. That makes sense when one thinks about the many hieroglyphic-like symbols that appear on some garment tags. Again, clear labeling presents another opportunity for brands to engage with shoppers.
Hi-Tech Printing & Labeling (P&L) Inc., based in Los Angeles, asserts labeling is an opportunity for brands to better connect with consumers. "A little communication goes a long way. Customers are more likely to repurchase from a company that they feel they know and understand."
Hi-Tech P&L says clothing labels can reinforce the appreciation customers have for a brand. For instance, if a garment is made in the U.S. or even more locally, brands should include that on the label. The firm adds customers like to support brands that align with their social values or make them feel they're helping to better the world.
And that is the kind of information that can be relayed on clothing labels to help brands foster loyalty among shoppers. Promoting this information could also help a brand's bottom line, as nearly half of all consumers (46 percent) are likely to pay full price for a clothing item where a portion of the money spent on the garment is donated to a charity they support or the same item is donated to someone in need, according to the Cotton Incorporated 2016 Lifestyle Monitor™ Survey. The percentage jumps to 62 percent among Millennials.
Something else to keep in mind: Most consumers (64 percent) say they check labels, online descriptions or hang tags for information about the sustainability/environmental friendliness of a clothing item, according to Monitor™ research. Even more noteworthy, nearly 8 in 10 consumers always (79 percent), usually (23 percent) or sometimes (49 percent) purchase clothing that is marketed or positioned as being sustainable, according to 2020 Monitor™ research. Yet, when consumers check garment labels, just 19 percent say they learn how sustainable the garment is, if it will biodegrade or could be recycled (19 percent) or if it will contribute to microplastic pollution (14 percent). Including such information is yet another opportunity for brands and retailers, according to the 2023 Clothing Label Study.
In the Journal of Consumer Protection and Food Safety, Małgorzata Koszewska, faculty of management and production engineering at Łódź University of Technology, Łódź, Poland, says product labeling is a concrete tool that will help consumers looking to make more sustainable clothing choices.
"Labels can be an effective instrument enabling communication with consumers," Koszewska states, "and are a possible major factor driving more responsible purchase decisions."