Inflation is at its lowest point in more than a year – three percent in June, down from 9.1 percent in June 2022. Yet, the continuation of increased prices, albeit slight compared to a year ago, has consumers entering the Back-to-School season with an eye on price and value.
"Obviously, we see inflation coming down but brands are really going to have to identify new ways to entice these consumers to buy from them," said Medallia's Bill Staikos, senior vice president, executive advisory in an August webinar. "At some point, kitchen table economics will overtake great experiences as well. So, this is something that CX (consumer experience) leaders as well as other executives have to really be focused on right now."
Consumers are spending, but they're a bit under pressure. I shouldn't say just a bit. There's a lot of pressure out there. And consumers have been adjusting where to buy and how much in terms of goods and services.

Jack Kleinhenz, Chief Economist, National Retail Federation (NRF)
Among consumers who have a need to shop for Back-to-School (BTS), 81 percent say inflation will impact their spending, according to Cotton Incorporated's 2023 Back-to-School Survey. Apparel spending is expected to be affected, as well, with consumers saying they plan to spend $378 on BTS clothes this year, compared to $520 last year. Shoppers planned to spend $368 on BTS apparel in 2021, $340 in 2020 and $312 in 2019.
Still, the effects of two years of inflation are expected to play out in a number of ways when it comes to school shopping. Almost half of all consumers (48 percent), say they expect to spend more overall on BTS items, according to Cotton Incorporated's 2023 Back-to-School Survey. More than a third of shoppers (36 percent) say they will buy fewer items but spend the same amount. A quarter of shoppers (25 percent) say they plan to buy more used clothing. Finally, 23 percent will simply spend less on clothes to make up for high costs.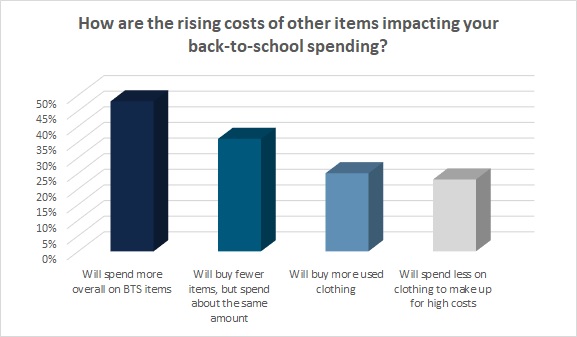 In Deloitte's 2023 Back-to-School Survey, authors Nick Handrinos, vice chair and U.S. retail and consumer products leader, Stephen Rogers, executive director of the consumer industry center and Lupine Skelly, research leader of retail, wholesale and distribution, say "the inflation story takes center stage." They say uneasiness about the economy is creating "price sensitivity" and causing parents to reassess how they'll spend this season. Add to that, Back-to-School is the second largest spending season before the holidays, creating another reason for shoppers to be looking for deals.
"The shopping journey will be centered around finding ways to economize – for instance, researching the best deals, shopping earlier and homing in on how to get items (and return them) in the most affordable manner," the Deloitte survey summarizes. "But it's not all doom and gloom for retailers. This is Back-to-School, after all – an event that invokes nostalgia, family traditions and a desire to please our children. Nearly 6 in 10 parents surveyed say they would be willing to splurge for the right reasons, like treating their child, self-expression or better quality. Retailers that can understand the drivers of splurging may be able to capitalize on those willing to part with a little extra cash."
When shopping for new school clothes, parents (79 percent) say comfort is a top feature, according to Cotton Incorporated's 2023 Back-to-School Survey. Parents are also looking for quality (67 percent), durability (66 percent), clothes that are functional (45 percent), sustainability (35 percent), classic style (34 percent), and easy care (25 percent).
Teens and young adults also prioritize comfort (75 percent), quality (67 percent), and durability (64 percent), according to Cotton Incorporated's 2023 Back-to-School Survey. But they also want clothes that are trendy (46 percent), followed by functional (41 percent), sustainable (38 percent), and clothes with classic style (33 percent).
Whether parents are looking for higher quality apparel or splurging on something trendy, the National Retail Federation (NRF) has a very strong outlook for the 2023 Back-to-School season. It expects spending to reach a record $41.5 billion, up from $36.9 billion last year and a previous high of $37.1 billion in 2021. Back-to-College is forecast to reach $94 billion, an increase of $20 billion more than last year's record. But the NRF's Jack Kleinhenz, chief economist, says the pace of spending in the second quarter of this year is slower than the first. And that may impact BTS purchasing.
"The first six months we were operating at 4 percent year-over-year, and for the last three months the average is about 3 percent," Kleinhenz said in a recent NRF Back-to-School webinar. "Consumers are spending, but they're a bit under pressure. I shouldn't say just a bit. There's a lot of pressure out there. And consumers have been adjusting where to buy and how much in terms of goods and services."
"But as we think about the consumer in general, their household finances are generally healthy," Kleinhenz continues. "Yes, there are some vulnerabilities out there — maybe a rise in delinquencies and a reliance on credit has increased — but not as much as it had earlier this year. We haven't seen monthly price changes. They are still elevated but decelerating. Jobs have been helpful and so have wages. Unemployment has been down to 3.6, 3.7. The consumer has been very resilient, but they will continue to be tested. But basically, if they have jobs they will continue to spend."
In the same NRF webinar, Katherine Cullen, the NRF's vice president of industry and consumer insights, says for overall K-12 BTS purchasing, consumers are expected to spend about $25 more than last year to just under $900. Back-to-College (BTC) spending is expected to reach $1,367, which Cullen says is significantly higher than it has been for the last couple of years, when spending was about $1,200.
The NRF sees the top categories for BTS as electronics ($326), clothing and accessories ($257 – down from $264 in 2022) and shoes ($167, flat from 2022). Back-to-College sees electronics spending reaching $337, up from $300 last year. Dorm and apartment furnishings are expected to reach $191, up from $170 in 2022. Clothing and accessories spending for this group is expected to increase, from $168 in 2022 to $182 this year. Cullen says apparel sales are expected to increase though, because more shoppers plan to buy clothing this year versus 2022: Among K-12, 95 percent expect to buy BTS clothes versus 93 percent a year ago; and among BTC, 86 percent plan to buy clothing this year, versus 81 percent a year ago.
Cullen says even though the NRF sees shoppers spending more overall this season, it doesn't mean inflation isn't on their minds. Rather, shopping comes down to how they're dealing with inflation.
"People are shopping for deals," Cullen says. "They're looking for sales more. They're looking for value. They're possibly even a little less brand- and store loyal than they used to be because they want to find the best price for the items they're looking for. And it's similar for Back-to-College. Online and department stores remain the top destination for Back-to-School and college shoppers. But we are seeing more focus on discount retailers this season. It's up to about 45 percent among BTS shoppers and up to about a third among Back-to-College. This tells us consumers are looking for value, they're shopping around, but they're not feeling pushed fully into discount channels. It's an option for them but they haven't returned to the kind of behavior we saw during the Great Recession when they were in a much different financial place."
Mass merchants like Walmart and Target (66 percent) are actually the top BTS shopping destinations for parents in Cotton Incorporated's 2023 Back-to-School Survey. That's followed by Amazon (56 percent), off-price stores like TJ Maxx (48 percent), chains (41 percent), specialty stories (38 percent), department stores (35 percent), children/teen specialty stores (35 percent), fast fashion retailers (31 percent), sporting goods stores (30 percent), vintage shops (21 percent), factory outlets (20 percent), online buy/sell/trade (19 percent), warehouse clubs (18 percent), subscriptions (8 percent), boutiques (6 percent), and catalogs (4 percent).
Most people intend to shop for Back-to-School in physical stores (59 percent) versus online (27 percent), according to the Cotton Incorporated Lifestyle Monitor™ Survey.
Sensormatic Solutions expects the busiest shopping periods to vary by U.S. region. In the South, it should be from July 30-to-August 5. In the West, from July 30-to-August 12. In the Midwest, from August 6-to-August 19. And the Northeast region will round things out with most of its shopping taking place from August 20-to-August 26.
Sensormatic's Stan Hopkins, associate director of retail consulting, says today's shoppers are focused on experience and for many, that experience comes down to price and convenience. He says consumers will be seeking out sales and promotions, and prioritize stores that offer hours, inventory and promotions that work with their busy summer schedules – "likely the ones that deliver smooth, omnichannel experiences. The retailers that capture these shoppers will be those that manage to deliver competitive prices and experiences on peak traffic days."
Stores can offer shoppers another kind of experience that also provides value via Cotton Incorporated's Blue Jeans Go Green (BJGG) program. In it, shoppers can drop their used denim off at a retailer, mail it through Zappos for Good or recycle it through a denim drive event. At many retailers, consumers can then get money back toward their next denim purchase. And they can feel good about their contribution as the denim is recycled into something new like housing insulation or pet beds.
"As Back-to-School is upon us, we're mindful of the purpose of Cotton's Blue Jeans Go Green™ program — to care for the earth by recycling old, no-longer-worn denim made from cotton — and how students can easily participate," says Cotton Incorporated's Andrea Samber, director of consumer marketing, brand partnerships. "Students in schools and on college campuses have been receptive and participatory to this message since the beginning of the program. Students and faculty at over 100 K-12 schools, colleges and universities have participated in Blue Jeans Go Green™ since 2006, resulting in over 300,000+ pieces of denim collected for recycling. We're excited to see youth continue to help make a difference by taking action to keep waste out of landfills."
Retailers that participate in the Blue Jeans Go Green™ program include American Eagle, which offers consumers $10 toward a new pair of jeans, plus two times reward points for Real Rewards members, and Madewell, which offers $20 off a new pair of jeans when a worn pair is recycled.
Denim happens to be a top Back-to-School item, with consumers expected to buy five new pairs of denim jeans and pants this season, according to Cotton Incorporated's 2023 Back-to-School Survey. They also plan to buy eight pairs of socks and eight shirts/tops, seven undergarments, four each of shorts, leggings, sweaters, and activewear items. That's followed by three outerwear garments and two each of pajamas and dresses.
When it comes down to those final clothing decisions, parents make the choice 40 percent of the time, children do 13 percent and both parents and children make the decision 47 percent of the time, according to Cotton Incorporated's 2023 Back-to-School Survey.
Interestingly, more than a few parents look to reward themselves while they're getting through all that Back-to-School shopping. LTK (Like to Know It), the app where content creators can post shoppable photos and videos, says 42 percent of Millennials and GenXers who said they're shopping for their children during this time period also said they are shopping for themselves.
"So, all the moms and dads are wanting to treat themselves in between shopping for backpacks and pencils," says LTK's Paige Govoni, principal, partnership media, in a recent Back-to-School webinar. "This really tells all the brands that are not typically seen as a Back-to-School brand that there's still opportunity for them to capitalize on this shopping period because so many people are opening up their wallets and are willing to spend during this time."