It's no secret that consumers don't have high expectations for clothes they purchase from fast fashion retailers. These pieces are usually so low in price, shoppers have come to view it all as throwaway garb that may shrink or fall apart after just a few wearings. The same can't be said for other apparel, though. If shoppers are going to make an investment, they want clothes that will not just last, but will work for them in a multitude of ways.
[quote]
Call it the Baby Boomer/Millennial effect. The 100 percent cotton wrinkle-free trouser phenomenon was a men's wear sensation in the '90s, back when working Boomers were introducing "casual Fridays" into the national lexicon. Cut to the Millennials of today, who grew up with casual everyday, culminating in athleisure in the workplace. Of course, athletic attire incorporates performance technologies like moisture-wicking and cooling. So when that's paired with everyday lifestyle apparel, consumer expectations are heightened.
"As an American sportswear company… we're a lifestyle brand," said J. Crew's Claire Elliot, senior merchant, at an Editions panel discussion in New York. "We've always had the sweatshirts, garment-dyed sweatpants, rugby shirts; a really nice array of that side of the business. Now we're just layering on that technical aspect. We brought in New Balance to help us with that because we wanted someone with the fabric and fit prowess so we could put our best foot forward."
The J. Crew/New Balance collaboration includes a camo cotton blend sweatshirt for men and the ballerina-inspired, cotton blend wrap top for women.
Just as the '90s consumers came to appreciate spending less time at the ironing board, today's consumers view performance features as something that saves both time and money, seeing as they don't have to replace entire items. Consider that the majority of shoppers would be willing to pay more for clothes that resist shrinking (60 percent), wrinkling (57 percent), staining (57 percent) and fading (54 percent), according to the Cotton Incorporated Lifestyle MonitorTM Survey.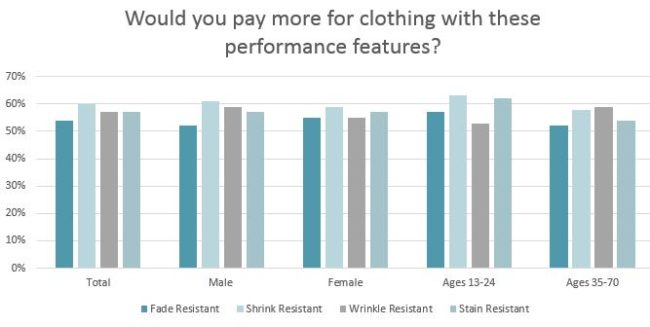 Dropel Fabrics is a New York-based company that specializes in a "lifeproof" natural fabric. Its DropelTech Cotton uses process technology to deliver water-, stain- or oil-repellency to cotton fibers. The company has created fabrics for labels like Area, Ceam and Mister French.
Brands that think ahead and consider the problems consumers' clothes face in their day-to-day wearings stand to benefit from adding performance features. It's almost like when Apple or Amazon addresses a problem consumers hadn't even realized was something that could be made easier. MonitorTM research shows consumers say certain performance features help resolve issues they previously or currently have. For instance, 65 percent say wrinkle-resistant features resolved an issue they had with their clothes. That's followed by shrink resistance (64 percent), stain resistance (62 percent), fade resistance (59 percent) breathability or airflow enhancement (55 percent), durability enhancement (53 percent) and thermal regulating (47 percent).
Old Navy took on the stain resistance challenge when it began offering its Clean-Slate collection of white jeans. The bottoms, which come in a number of styles, feature 97 percent cotton, but thanks to the Clean-Slate technology, stains and spills are virtually repelled from the material. The Today Show put the denim to the test with lipstick, ketchup, red wine and coffee. The end result: the Clean-Slate clothes are "great news for the klutzes of the world."
At The Outdoor Store in Montclair, NJ, customers appreciate the range of features on both the lifestyle and performance collections.
"It's the nature of our store," says Dave Weitzman, owner. "They expect a little more in durability and performance. And they're looking for things like abrasion resistance, water resistance, breathability and quick-dry capabilities."
The store stocks items like women's Kühl splash shorts and pants, which feature a quick-drying cotton blend with stretch for freedom of movement, the Kühl's extra-durable, long-staple combed cotton Kanvus jeans for men, as well as the classic waterproof waxed cotton Barbour jackets.
Companies that would like to add natural fiber performance clothes to their mix should know that Cotton Incorporated has a number of technologies that would help them in their effort. The TransDRY® technology is a high performance moisture management application that allows cotton fabrics to wick and spread perspiration as well or better than most high-tech synthetic fabrics. And Cotton Incorporated's STORM COTTONTM and STORM DENIMTM technologies provide a water-repellent finish for cotton pieces that lasts over the lifetime of the garment.
Whether lifestyle or performance categories, brands that use cotton are appealing to the consumer desire for natural fibers. In fact, compared to clothes produced with manmade fibers, more than 8 in 10 consumers say cotton apparel is the most comfortable (87 percent), most sustainable (85 percent), trustworthy (85 percent), soft (85 percent), authentic (83 percent) and reliable (81 percent), according to MonitorTM research.
While most consumers appreciate such performance features, they admit it they would like a little help actually finding clothes with such attributes. Most shoppers say they would prefer brands and retailers explain performance features right on a product's hang tag (54 percent), according to MonitorTM research. That's followed by product pages of their websites (37 percent), through a knowledgeable sales associate (25 percent) and by developing more education signage and brochures in-store (25 percent).
The MonitorTM research also finds that 7 of 10 consumers thinks apparel manufactured with cotton "lasts the longest," or is more durable than manmade fiber.
That natural durability is something customers look for when they come to the Beau Brummel store, also in Montclair, NJ.
"They're looking for the quality that we sell," says the store's Isaac Dora. "The cotton shirts are so good, people can send them to the cleaners and nothing will happen to them. They won't shrink, and they won't fall apart."