While shoppers have been spending well over the holidays, analysts expect to see a slowdown in certain sectors of the economy come the New Year, something that could affect how consumers spend for the rest of 2019.[quote]
The Conference Board's Lynn Franco, senior director of economic indicators, said that although consumer confidence is at historically strong levels, expectations have weakened, primarily due to a less optimistic view of future business conditions and personal income prospects.
In the latest survey from the Conference Board, consumer confidence declined in November to 135.7, down from 137.9 in October. The board's Expectations Index, which is based on consumers' short-term outlook for income, business and labor market conditions, decreased from 115.1 in October to 111.0 in November.
"Overall, consumers are still quite confident that economic growth will continue at a solid pace into early 2019," Franco said. "However, if expectations soften further in the coming months, the pace of growth is likely to begin moderating."
Consumers' views vary widely between their own personal financial outlook, and their outlook for the U.S. economy. When describing their outlook for their own personal financial situation, the majority of consumers (54 percent) say they are very/somewhat optimistic, according to the Cotton Incorporated Lifestyle Monitor™ Survey. That's relatively flat from 55 percent in 2017 and 53 percent in 2016. Men are significantly more optimistic than women (58 percent versus 51 percent). And those whose incomes topped $50,000 were also notably more optimistic than those earning under $50,000 (64 percent versus 43 percent.)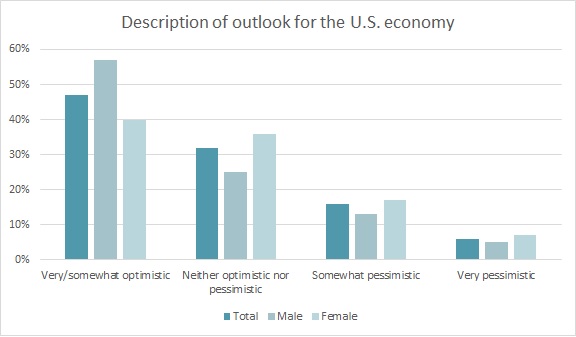 But when it comes to the U.S. economy, less than half of all consumers (47 percent) are very/somewhat optimistic, according to Monitor™ research. That's 1 percentage point higher than in 2017 and 5 percentage points more than 2016 (42 percent).
Men are significantly more optimistic about the U.S. economy than women (57 percent versus 40 percent), according to Monitor™ research. Further, those over age 35 are more positive than their younger counterparts (49 percent versus 44 percent). In addition, those with incomes above $50,000 were far more positive about the economy than those earning less (55 percent versus 39 percent).
Of course, recent news about trade disputes and market volatility can play a part in consumer sentiment. For instance, Moody's Bill Wolfe, senior vice president of corporate finance, says the business outlook is positive for next year, based on key Industry Sector Outlooks (ISOs), but businesses should prepare for a slowdown.
"The 2019 outlook remains positive and is based on strong, if slowing, GDP expansion along with positive signals for a cross section of our key proprietary indicators, such as our industry sector outlooks," Wolfe said in a statement. "With nearly all of our ISO's being either positive, including the U.S. consumer durables and global consumer packaged goods ISOs, or stable, such as the global auto manufacturers and U.S. packaged food ISO, our analysis shows strong business conditions."
However, he points out, general economic growth will start slowing "amid tightening trade tensions," and conditions will soften from 2018.
"This causes risks to get more attention," Wolfe says. "Trade disputes, for example, whose impact currently looks fairly contained, could spill over. This would restrain investment, economic growth or market confidence. Or perhaps all three."
CNN Business has a Fear & Greed Index that gauges market sentiment. Recently, after tumult in the stock market, the index registered as "extreme fear." JP Morgan's Bruce Kasman said in a recent report that the market is "starting to price in a recession-like scenario."
Some experts say the trade tariffs with China are having a tangible effect on the economic outlook. Betsy Stevenson, a former member of the White House Council of Economic Advisors under Barack Obama recently told MSNBC that the tariffs aren't necessarily having an effect on consumers, but they are impacting industries that are dependent on selling to China, or those that depend on buying material goods from China to manufacture here.
Analysts are also concerned the tariffs will slow global growth. In its latest economic outlook, the Organization for Economic Cooperation and Development said that while global growth is currently strong, it has passed its peak and faces "escalating risks including rising trade tensions and tightening financial conditions." The global GDP forecast was lowered to 3.5 percent, down from 3.7 percent last May.
Among the forecasters for the National Association for Business Economics, 80 percent say trade uncertainty has led them to reduce their forecasts for GDP growth in 2019 from 2.9 percent to 2.7 percent. Two-thirds have increased their inflation forecasts due to trade policy changes and 41 percent lowered their forecasts for Personal Consumption Expenditures (PCE). Expenditures included in the PCE Index covers actual U.S. household expenditures related to services, durables (like cars, televisions and refrigerators), and non-durables (which includes clothing.)
This could potentially hurt the fashion industry, which saw more spending by consumers this holiday season and this year overall. Connecticut-based Customer Growth Partners, a retail, fashion and consumer goods consulting firm, reported spending on apparel increased 5.4 percent over Black Friday Weekend, the best growth since 2011. Over the last year, consumers spent on average $947 on apparel, compared to $934 the previous year, according to Monitor™ research.
The University of Michigan's preliminary December sentiment index credited strong hiring, improving wages and cheaper fuel costs for keeping consumer confidence levels "fairly solid," even though the outlook weakened. Sentiment was measured at 97.5, virtually even with 97 in November, while expectations fell two points to 86.1.
The strong consumer sentiment means businesses should finish the year with a bright fourth quarter. Richard Curtain, the director of the University of Michigan's consumer survey, said some economic fluctuations might have less impact on consumer outlook than job prospects.
""In the early December survey, however, consumers did mention hearing much more negative news about future job prospects," Curtain said. "As long as job and income growth remain strong, rising prices and interest rates will not cause substantial cutbacks in spending."