»

»

»

Cheering for the Red, White & Blue
Around the July 4th holiday, patriotism runs high.  So it is an ideal time for retailers to promote that American original, denim — especially to men, who are particularly loyal to their favorite brands.
MATiAS USA's Matias Sandoval, founder and designer of the locally-made denim brand, says the male spirit fosters brand loyalty because of how men "identify with their social surroundings" and where they find themselves fitting in.
"We have a fairly educated consumer, and they prefer USA-made garments whenever possible."

-Frank Pizzurro,
Brooklyn Denim Co.
"I also believe the brand needs to remain true to itself and true to its followers and/or customers," Sandoval explains.  "Men don't change their style quite as much as women. Women tend to have more confidence and courage with what they wear.  Men typically play it safe — meaning a men's brand really needs to stay on point."
Men are significantly more likely than women to have a favorite brand of denim (66% versus 58%), indicating they are more brand loyal in their denim purchases than women, according to the Cotton Incorporated Lifestyle Monitor™ Survey.
Brooklyn, NY-based Williamsburg Garment Company's Maurice Malone, designer, says women change brands more because they are more loyal to fit than to a label.
"My direct-to-consumer website sales are about 90% men's, while at wholesale men are about 60%," he says.  "I attribute the imbalance to the fact that women need time to shop my denim in stores to learn that it's a good fit for them."
On average, men own 6 pairs of jeans, according to the Monitor.  Nearly a third would like to have more denim in their wardrobes.  And 74% of men say they plan to purchase the same amount of jeans in the next 12 months, versus 66% of women who say they would purchase the same number.
But Malone says loyalty only goes so far.
If you're not on top of your game, loyalty to a brand only means three years or until the consumer feels you're no longer cool," he says.
Brooklyn Denim Co.'s Frank Pizzurro, founder and owner, says that while male shoppers are not as daring as women, he is starting to see them become more adventurous in their buying.
"As a rule, men have been more loyal to brands than women," Pizzurro admits.  "But in recent years, we find men are much more open to trying a new fit or brand. Men now are looking for something new and want to know what we think is the best new jean. It is quite a change from the past."
As for colors, men mostly stick to classics, with 72% likely to purchase dark blue, 65% medium blue and 51% black, the Monitor shows.  Men also like light blue (38%) and gray (19%).  But for the less than 10% who like other colors, earthy tones and the occasional bright red or green are livening retail denim selections.
Besides colors and labels, men also have a healthy interest in whether or not the jeans are made in the United States.
"We have a fairly educated consumer, and they prefer USA-made garments whenever possible," Pizzurro says.  "We carry a wide variety of denim in our store but we are about 70% USA-made products. There are many advantages to products that are made in the USA. The most important is the quality and the workmanship that is offered, as well as the fact that it means more workers have jobs here at home."
When buying a pair of denim jeans, nearly half (46%) of male consumers say having the jeans made in the USA would be important to them, according to the Monitor, followed by the jeans being an American brand (38%).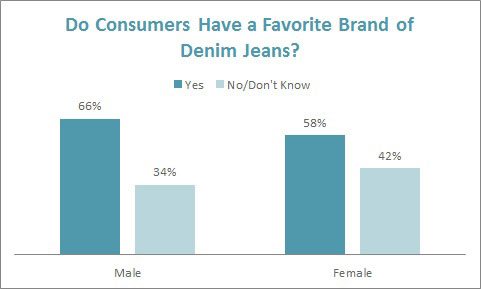 Black & Denim, based in Tampa, FL, began manufacturing in 2008, "for men that are inspired by Americana, music and the American lifestyle."  Co-founder Roberto Torres told Manufacturing.net the company was founded to "reconnect consumers with the American idea of design, craftsmanship, functionality and practicality."
Sandoval of MATiAS denim says his creativity is sparked by virtue of the fact that he can make jeans in his artist-like studio in Los Angeles.
"I am able to construct and change things exactly to my liking, on the fly," Sandoval says. "In an overseas factory, development is all about efficiency, and I think it would be tough to achieve some of the detailing."
Sandoval says all MATiAS denim is cut in small batches, rivets and buttons are hand-patinaed, and wash prototypes are often completed in-house with alternative substances or materials.
"And of course, design and pattern-making is all completed and inspired by my life and my daily surroundings," Sandoval says.  "We are forever comfortable with our little studio by the sea."
Malone, too, says it is important he continue to produce Williamsburg Garment Company's denim on American shores.  His pieces retail for under $125.  That is more than the average asking prices for men's denim, which is highest at specialty stores ($66) and lowest at mass merchants ($19), according to the Cotton Incorporated Retail Monitor™.  But Malone's is priced well for premium quality, made in the USA.
"I was really inspired by President Obama's call to create more American jobs," Malone says.  "That's why it's important for me to make my jeans in the U.S."
Related posts