Before the coronavirus pandemic forced people to start working from home, where they can wear pajamas 'til noon or so, research showed business casual, or smart casual, is the most preferred dress code for American employees.
An OfficeTeam study from executive recruiting firm Robert Half says most people (58 percent) would prefer to work at a company that has a relaxed dress code, whether it's business casual (31 percent) or a casual/no dress code (27 percent) workplace. A separate study from the Society for Human Resource Management found 50 percent of companies allow workers to dress casually every day. And 62 percent of companies allow casual clothes to be worn at least one day a week. [quote]
Indeed.com, the search engine for job listings, says this propensity to ditch the suit and tie, or the high heels, is actually a perk that helps attract top talent. And it's easy to see how employees who spend long days at a computer would appreciate more comfortable attire. Of course, not everyone can get away with T-shirts and Adidas slide sandals (like Facebook's Mark Zuckerberg did). But the tech industry most certainly ushered in a daily casualization that had begun decades prior with casual Fridays. With that, jeans, T-shirts, hoodies, and aspirational sneakers have become the norm.
A New York Times article last year described the abundance of black denim worn by Twitter employees in New York. It turns out, denim is a workplace workhorse throughout the country, as nearly two-thirds of consumers (62 percent) say they wear denim jeans or shorts at least three times a week, according to the 2019 Cotton Incorporated Lifestyle Monitor™ Survey. Men (68 percent) and consumers over age 35 (65 percent) are significantly more likely than women (58 percent) and their younger counterparts (58 percent) to say they wear denim a few times a week or more.
More than half of all consumers (53 percent) say they wear jeans when "I want to express myself," according to the Monitor™. Another 52 percent wear denim when they "want to look stylish," while 48 percent wears it when they want to feel confident. More than 4 in 10 men (42 percent) specifically wear jeans to work, as do 31 percent of women.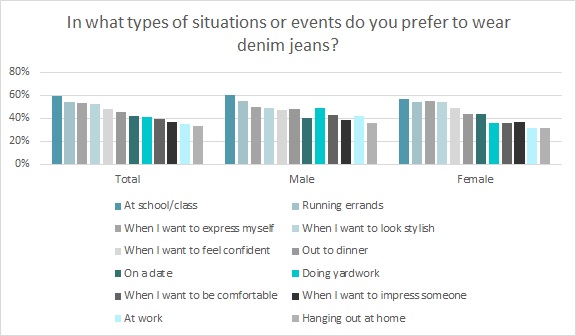 Eden Slezin, designer and founder of the ready-to-wear brand Mined on Denim, showed his line of sustainable, work-appropriate denim at New York Men's Day in February. He comes from a working class family, so Slezin says he'll always feel a connection to working class clothing. His collection is quite stylized, though. Made in San Francisco, it includes denim overalls, dress shorts, jeans, a patchwork denim poncho, and blazers made from recycled and organic cotton, as well as cotton/hemp blends.
"Some of the recycled cotton comes from a place in L.A., Pacific Blue Denim," Slezin said during an interview with Cotton Incorporated during the show. "And some of the denim, like this jumpsuit, was donated by Cone Denim, which is amazing. Everything has a percentage of recycled, organic or remnant denim. I have a poncho made from denim that was going to be thrown away. My collection is trying to address pollution, waste and sustainability."
More than 9 in 10 consumers say cotton-rich jeans are the most authentic (91 percent), sustainable (87 percent), and highest quality (86 percent) compared to manmade fiber blend jeans, according to the Monitor™ research. That's followed by most breathable (85 percent), trustworthy (85 percent), comfortable (85 percent), and soft (84 percent).
In its "Trends to Take into 2020" report, Edited, the London-based retail analytics company, says Y2K nostalgia will prevail this year. It advises that denim is among those categories in which retailers should invest. Not only will women adopt the stacked look of skirts and dresses over trousers and jeans, but they'll be seeking "double denim" looks.
"While we don't suggest taking it as far as Britney & Justin," they write, referring to a young Spears and Timberlake, wearing head-to-toe matching denim ensembles back in the day, "channel elements of this aesthetic into your visual merchandising."
Edited says stores shouldn't drift into the ultra low-rise territory that was a hallmark of women's jeans worn during the Aughts.
Edited's Tara Drury, senior fashion and retail analyst, writes that as more offices employ a casual dress code, the formal suit is less relevant than ever. However, she says, the direction toward a more casual dress code gives retailers the opportunity to show the range and adaptability within their assortments.
"Items like denim jackets and classic leather sneakers allow a look to transition from the office to an evening out," she states. "Transition your workwear into the fall season by either layering with sweaters or as a standalone option."
Drury also advises that stores, "Do denim: Push staple pieces already in your assortment like denim truckers or dark wash jeans to highlight versatility."
Nearly 8 in 10 consumers (78 percent) say jeans are their first pick for casualwear, according to the Monitor™ research. In fact, while 68 percent plan to purchase the same amount of denim over the next year as they did in the last 12 months, 19 percent say they expect to buy more.
Once the country eventually returns to its norm, and employees venture back to their offices, the comfort and versatility of denim will likely make jeans an option for both men and women. Especially since more companies are allowing jeans to be worn throughout the week, says the Euromonitor International's Ayako Homma, senior analyst.
"As recent fit and fabric innovations have made jeans more comfortable and flattering," she says, "they will continue to be a popular item for Americans in the casual workplace."