For new parents, one of the fun things about dressing their baby is the choice in outfits. Their little girl can be a rocker baby one day, and a flowery angel the next. And their bouncing baby boy can be outfitted in duckies or trucks, depending on the day of the week. Either way, the babies won't (or can't!) complain about what they look like. However, they will cry long and loudly if they're uncomfortable. That's why easy-to-maneuver outfits that are soft and snuggly become instant faves for today's parents — especially Millennials, who have been called the "convenience generation."[quote]
"Millennial Moms are all about function, ease, and the 'cute factor'," says Kelsey Gillenwater Bolling, general manager of the Denver-based Nest Children's Boutique. "Moms in this day and age want their babies to be fashionable and stylish, but also want to make sure they are efficient with their time since every minute counts. That's why we carry a brand called Magnificent Baby – the closers are magnets. This makes life super easy when dressing their baby but at the same time they have modern prints. It's a win-win. And we can't forget about our dads — they especially love these."
No doubt, it's good to be a baby these days. Even though the birthrate is shrinking, Millennials are spending more on their progeny than previous generations. For example, statistics portal Statista shows that in the U.S., birthrates had decreased to 13 per 1,000 of the population in 2010 compared to 16.7 in 1990.  However, parents drop $12,000 on their babies in the first year alone. The U.S. market is estimated to be $23 billion, and Statista projects the global baby care market will increase its total sales to $44.8 billion U.S. dollars by 2017.
More than half of Millennials (53 percent) shop for their children at least once a month, which is significantly more than non-Millennials (42 percent), according to the Cotton Incorporated Lifestyle Monitor™Survey.  And nearly 9 in 10 Millennial moms (88 percent) say they prefer their children's clothing to be made of cotton, according to Monitor™data. Of note, more than 6 in 10 (61 percent) are willing to pay a slightly higher price to keep cotton from being substituted with manmade fibers in their kids' clothes.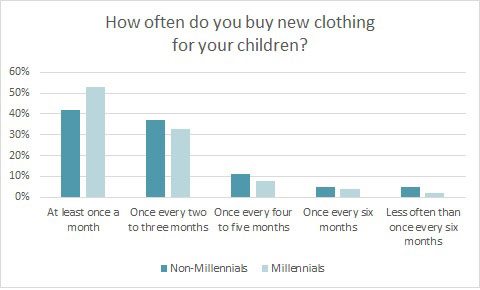 Stores like Nest, which has an e-commerce site as well as two Colorado brick and mortar locations, also benefit from the fact that most Millennial parents (78 percent) like to shop for their children's apparel in-store versus online, according to Monitor™data.
However, retailers can't discount the fact that technology is important to Millennials. Accenture Retail, an industry consulting firm, found 68 percent of Gen Y consumers demand an integrated, seamless experience regardless of whether their shopping platform is via phone, computer, or in-store.
And that's not lost on leaders in the baby market. The Carter's brand has been around since 1865, and its target consumer is first-time moms and babies up to two years old. Carter's reports it has doubled its business in the last five years. One of the reasons for the increase was the adoption of Demandware — a provider of enterprise cloud commerce solutions — in 2010. Demandware presented Carter's with a 2016 Pacesetter Award for its sustained growth. Besides double-digit e-commerce growth since launching Demandware, Carter's accomplishments included launching a mobile site in 2013, which has led to mobile accounting for half of its traffic; and processing more than 10,000 orders in a single hour on Black Friday, 2015.
"Millennial moms have a baby in one hand, and a mobile device in the other," said Greg Foglesong, senior vice president of marketing and e-commerce at Carter's, at April's Demandware XChange 2016 conference in Hollywood, FL.
The Children's Place is another pure-play baby and children's brand that's revamped its retail style to mesh with modern moms. Piper Jaffray recently upgraded its rating of the company largely based on a survey of Millennial moms.
"Despite widespread volatility in traffic, we think PLCE is increasingly becoming a destination of choice for moms," read the Piper Jaffray report. "Investments made in multi-channel access (esp. mobile) and more robust CRM capabilities position the company for greater mind and market share capture, and continued pricing power."
Successful baby brands and retailers also recognize that Millennial parents tend to be scrutinizing shoppers. Factors like fit (99 percent), comfort (97 percent), durability (93 percent), quality (93 percent), and price (88 percent) are more important to their purchase than they are to their non-Millennial counterparts, according to the Monitor™.
The Nest's Bolling says such features are definite draws for the store's customers.
"That's why when we curate the store we keep all of these factors in mind," she says. "We try to carry different brands that will be attractive to the needs of the mom."
Bolling says brands include Kate Quinn, which is noted for its vibrant colors and patterns, as well as Kissy Kissy, which is high quality cotton "and is super soft and cozy."
Convenience is also important to Gen Y parents — even those who prefer reusable diapers. For these parents, Gerber has created a new line of washable diapers featuring a removable cotton liner. It comes in four colors and is made with TransDRY® technology, which transfers moisture away from baby's skin and dries faster.
This way, modern babies can be cloaked in comfort from their morning diaper change straight through to bedtime.
Save