The U.S. has been living with COVID for two years, and nobody knows that more than parents of young children.
"Between remote schooling and playdates being cancelled, children's routines are anything but routine," states a recent Harvard Health article.
It became clear we needed to go beyond basics and focus on trend."

Kelly Hall
Senior Vice President & General Manager, Abercrombie Kids
Even through the last season's holidays and the start of 2022, the omicron variant was still creating major disruptions. But throughout the 2021-22 school year, increased vaccination rates were seen as the best way to keep schools open, allowing for in-person learning and extracurricular activities. And that has been a boon to the childrenswear market.
"The reopening of schools and restarting of sports activities gave an added boost to the kids' activewear business this year – making products for kids the stars of activewear for the third quarter," said Matt Powell, sports industry advisor at The NPD Group, last December. "The return of more social activities will only add to the strength of the market during the holiday season this year and into 2022."
Of course, strength in the kids' category wasn't only in activewear. For instance, specialty retailer The Children's Place saw net sales grow 31.2 percent from $425.6 million in Q3 2020 to $558.2 million in the third quarter of 2021. Last November, it introduced Sugar & Jade, a line aimed specifically at the tween market.
"The U.S. tween market is estimated at approximately $8 billion annually, and we are thrilled to offer a dedicated tween line that meets the needs of these customers," stated The Children's Place's Jane Elfers, president and CEO.
In 2018, the global children's wear market was valued at about US $169 billion, according to Statista, with expectations that it would reach US $239 billion by 2023.
This increase in sales could be traced to the two-thirds of parents buying school clothing for their kids (66 percent) say their children dress differently depending on whether they're learning is in-school versus online, according to the Cotton Incorporated 2021 Lifestyle Monitor™ Survey. A third of the parents (33 percent) say it is because their kids want to be more comfortable when they're at home. And 23 percent say their kids dress differently based on personal preference/style/influence of friends and media. Another 23 percent say a school dress code makes a difference in what their children wear.
But whether kids are in school, at home, or participating in extracurriculars, almost 9 out of 10 parents of school-age children (88 percent, up significantly from 78 percent in 2020) said they prefer their children be dressed in clothes made of cotton, according to the Monitor™ research. And the majority of parents (55 percent) say they "always or usually" check fiber content labels when shopping for their kids.
Most parents, when shopping for school clothes, also say they prefer cotton over manmade fibers like polyester or rayon when buying their children's T-shirts (75 percent), sweatshirts (67 percent), casual pants (64 percent), school uniforms (57 percent), denim jeans (51 percent), and skirts/dresses (51 percent). Nearly half (47 percent) prefer cotton for their children's activewear, as well.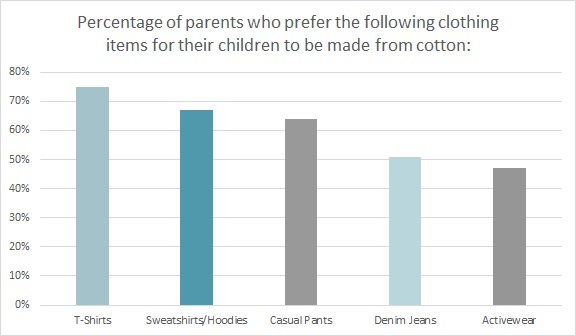 Newness in the children's category also helped boost sales, according to Edited, the retail intelligence platform. The firm said the children's market grew in 2021 thanks to names like Fear of God, SSENSE, PacSun, and Missguided joining the category.
"This, coupled with a penchant among kidfluencers for mini-me takes on streetwear trends like matching loungewear, fluro hues and bucket hats, will continue to propel contemporary narratives to the fore," contends Edited's Katherine Bailey, retail analyst. "The applicability of this largely unisex streetwear story also fits well with a young customer increasingly defying gender narratives and experimenting with personal style."
Mordor Intelligence, a market intelligence and advisory firm, says the mini-me style was popularized after brands like Dolce & Gabbana stocked diminutive versions of adult outfits side-by-side. Parents hopped on social media to post photos of themselves and their children in matching outfits, and the trend took off.
The East Coast-based children's brand Sammy + Nat offers a selection of matching mom/daughter cotton dresses and nightgowns. The children's offerings range from little girl summer dresses that feature a cotton jersey top and flouncy tulle skirt to Beastie Boys and Metallica long-sleeve tees for the older kids. The company's site says founder Samantha Benson wanted to create a collection that provides comfort and quality, "but also has a sense of style for mom."
This sentiment is reflected by the majority of parents (68 percent, up significantly from 56 percent in 2020) who say they prefer to buy more fashionable items over wardrobe basics for their kids' school clothes, according to the Monitor™.
To that end, Abercrombie Kids, the childrenswear line from Abercrombie & Fitch, refreshed its styles, "making them as on-trend as the company's adult styles," according to a recent Glossy article. Kelly Hall, senior vice president and general manager of Abercrombie Kids, told the publication, "It became clear we needed to go beyond basics and focus on trend." The brand has introduced licensed Star Wars and Marvel apparel, as well as adult fashion trends like TikTok tie-dye and loungewear. The idea is creating clothes that will appeal to both the kids and their parents.
The children's category is also getting new players in its space. Actor and rapper Chris "Ludacris" Bridges and media company 9 Story Media Group recently partnered with students from the Fashion Institute of Technology to create a 50-piece fashion-forward children's collection inspired by Ludacris' Netflix children's show Karma's World. The pieces include jumpsuits, denim overalls, jackets, and dresses that will be produced by Karma's World licensing partners.
Such lines appeal to both parents and children, which makes a difference with today's shoppers. The majority of parents (51 percent, up significantly from 38 percent in 2020) say they make the school clothing purchase decisions for their children, according to the Monitor™. But 39 percent say they make the decisions together with their children. Just 10 percent of kids are allowed to make their apparel decisions on their own.
"As children are also spending high amounts of time on social media, their awareness regarding brands and willingness to provide an opinion on their own clothing choices were noticed significantly," reads the Mordor Intelligence report. "Furthermore, parents are willing to indulge those choices, regardless of associated costs. Thus, promoting market growth."