More than 100 years ago, June of 1894 to be exact, our nation's elected officials declared the first Monday of each September a national holiday dedicated to the American worker — Labor Day. And despite the curious choice of British band Coldplay headlining the Made in America concert in Philadelphia over this year's holiday weekend, the day is meant to pay tribute to the contributions the American worker has made "to the strength, prosperity and well-being of our country," words attributed to the Labor Department.[quote]
In the years leading to the Great Recession, Labor Day had come to symbolize the end of summer, chock full of Back-to-School sales, season-ending barbecues and shore traffic. While those markers certainly remain, it's also a date that's taken on import among certain sectors — apparel and home goods among them — as workers have seen industries and jobs change here in the States. Currently, less than 2 percent of apparel sold across key U.S. retailers is made in the USA, according to the Cotton Incorporated Retail Monitor™ Survey.
For some companies, the desire to start and keep manufacturing in America is part and parcel of their business model.
Bayard Winthrop, CEO of online apparel company American Giant, says he had multiple reasons to set up his business here in the U.S.
"First, the market was changing.  Customers were increasingly demanding high quality, well-made goods," Winthrop explains. "Second, we didn't believe what all the 'experts' were saying: That we couldn't make exceptional products in America any more. That we had lost that fight to some foreign country. We were inspired to deliver the best products on the market, priced fairly, made here."
Anna (Yeager) Brakefield, co-owner of Red Land Cotton, an heirloom sheeting manufacturer that uses its own family-grown upland cotton, says it's important that the company produce its goods here in the U.S. because, "We felt a sense of responsibility and duty to the United States and its economy."
"Most cotton is exported out (of the U.S.) and then brought back in, whether it be via finished product or fabric. If we can play even a small part in keeping that money and labor here, we want to do that," Brakefield says. "We also believe in the quality of American-made goods. We loved being able to meet face to face with our manufacturers, see their facilities — many of which have been in their families for generations — and form those personal relationships with them. It's a partnership between ourselves and our vendors, and we believe the benefits of that will extend into the products themselves."
More than 4 in 10 consumers (43 percent) say it is important that the clothing they buy is made in the USA, according to the Cotton Incorporated Lifestyle Monitor™ Survey. Boomers are significantly more likely (64 percent) than Gen Xers (51 percent) and Millennials (22 percent) to feel that way.
Among all generations, for those who say it's important that products they buy are made in the USA, 79 percent say it's because they prefer to support the U.S. economy, the Monitor™ research shows. Another 46 percent say it's because they believe products made in the U.S. are better quality, while 30 percent say they're more environmentally friendly.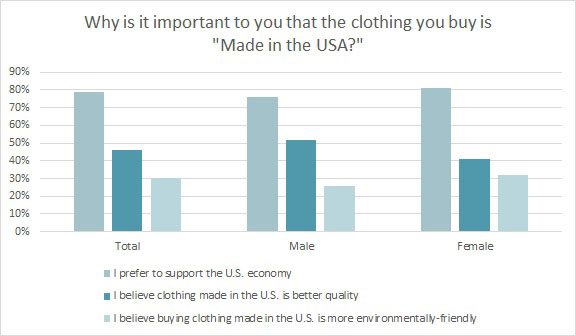 The U.S.-made movement has gained a lot of traction since the Great Recession. Jay-Z's Made in America concert, founded in 2012, garners a lot of headlines. But groups such as Save the Garment Center/Made in NYC and Made: In America were created to foster business and help new and existing companies grow in a global economy.
Companies that are interested in furthering their U.S.-manufacturing interests can also attend events like the Martha Stewart 2016 American Made Summit, which will be held Oct. 21-23 in New York. Besides Stewart, who has a whole host of home products to her name, speakers will include designers Joseph Abboud and Zac Posen. On the final day, 120 vendors in categories that include clothing, accessories and decor will be available to the public for shopping.
Like many manufacturers that make their product stateside, Winthrop says there were challenges to starting up — but probably no more than if he'd gone overseas.
"We were able to work directly with businesses that have been in the knitwear category for generations, who understood the quality standard we were running for," he says. "It's an ongoing process for us and requires meaningful investment of dollars and time, but the payoff is remarkable."
Winthrop says American Giant products will always be manufactured in the U.S. "It's one of our driving core values, and part of our DNA as a company. We're able to produce high-quality product because of the manufacturing infrastructure we've built, and we believe there's a lot of opportunity we can still unlock."
And Brakefield says she "wouldn't dream" of manufacturing anywhere but the U.S.
"What remains of the textile community in the U.S. is a strong and tight-knit group," she says. "Everyone we've gotten to know seems to really appreciate what we are trying to do, whether they can help us succeed in it or not. We have met some truly authentic and hard-working people; we've heard great stories about their companies' histories and met their employees. All of this renews our enthusiasm to manufacture and continue to grow our brand and company in the U.S."
Save
Save
Save