So much about American life has changed since the 1870s. For starters, 12 U.S. states had yet to be admitted to the Union back then. Horses provided the main mode of transportation. And forget about TV or the internet — the radio wasn't even invented until decades later.
But one invention that came about 150 years ago is not only still with us, it's as popular as ever: the blue jean.
It was May 20, 1873 that Levi Strauss and his partner Jacob Davis received the patent for workwear pants that had metal rivets at the points of strain, like the pocket corners and base of the button fly. Davis, a tailor, came up with the idea when the wife of a local laborer asked him to make a pair of pants for her husband that wouldn't fall apart. The riveted pants were a success from the get-go but to grow his denim project, Davis needed a business partner. That's where Strauss came in – he was Davis' denim supplier.
The workwear bottoms were called waist overalls back then. Levi Strauss & Co. says they weren't called jeans until 1960, when Baby Boomers adopted the name.
"The next time you see someone wearing a pair of Levi's jeans, remember that these pants are a direct descendant of that first pair made back in 1873…That year, two visionary immigrants — Levi Strauss and Jacob Davis — turned denim, thread and a little metal into what has become the most popular apparel on earth."

The History of Denim, Levi Strauss & Co.
Since then, blue jeans have been worn by everyone from presidents to princesses, rock stars to rock climbers and toddlers to teens. And there isn't any sign of that abating. After a dip in sales from $16.6 billion to $12.8 billion during the COVID-19 pandemic, jeans sales have increased every year since, according to Euromonitor International. The firm projects the U.S. market will reach $20.7 billion by 2026.
Of all the pants and bottoms they own, consumers say they have worn denim jeans the most (34 percent) in the past month, according to the Cotton Incorporated Lifestyle Monitor™ Survey, with men wearing them significantly more than women (40 percent versus 30 percent). That compares to sweatpants/joggers (23 percent), leggings/jeggings (17 percent), casual pants (15 percent), active pants (8 percent), and dress pants (2 percent).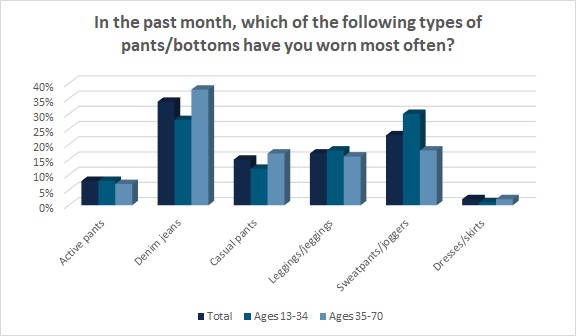 It's not just this past month that sees consumers regularly reaching for their jeans. The majority of shoppers say they've been wearing their denim the same number of days (56 percent) or more often (22 percent) over the last year, according to the Monitor™ research.
And since denim jeans are an important part of so many wardrobes, it should come as no surprise that the majority of consumers plan to purchase the same (62 percent) or more (20 percent) pairs of denim in the next year as they did in the previous 12 months, according to Monitor™ data.
These days, denim is an even bigger wardrobe workhorse than it was a century-and-a-half ago. And perhaps that's why the companies that produce it are looking to make it a more sustainable category. Historically, denim has had a reputation for being eco-unfriendly. But Miguel Sanchez, technology leader for Kingpins, the denim trade show and network, and textile engineer for the Polytechnic University of Catalonia, says there are different ways to produce it.
"If you just follow simple rules and use your brain to do what is right, denim is not worse than any other fashion product," Sanchez says.
To that end, Levi's has released its sustainability goals for 2025 and beyond. The strategy is comprised of 16 people- and planet-first goals "that illustrate our commitment to bettering the world we all share," the company states. Its goals include a 40 percent absolute reduction in supply chain greenhouse gas emissions; reducing freshwater use in manufacturing by 50 percent in areas of high water stress and eliminating single-use plastics in consumer-facing packaging by shifting to 100 percent reusable, recyclable, or home-compostable plastics by 2030.
Further, Levi's biodiversity roadmap, developed in 2021, is focusing on different levels of biodiversity and identifying the most significant impacts – including cotton cultivation, textile waste, and microplastics – so it can assess direction and steer its development goals.
This focus on sustainability is meaningful as nearly half of all consumers (46 percent) say environmental friendliness is an important feature when they're weighing whether or not to buy a pair of denim jeans, according to the Monitor™research. While shopping for denim, 45 percent of consumers actually look for sustainable messaging according to Cotton Council International (CCI) and Cotton Incorporated's 2021 Global Denim Survey. Further, the importance of sustainability in denim jeans has increased for 20 percent of consumers.
When looking to make a more sustainable denim purchase, most consumers say the use of natural fibers (59 percent) is likely to impact their purchase decision, according to the CCI and Cotton Incorporated 2021 Denim Survey. That's followed by workers' rights/pay (57 percent), assuring jeans can be recycled (52 percent), recycling old jeans (51 percent), reducing chemicals in production (43 percent), and reducing water in production (42 percent).
Cotton Incorporated has provided jeans makers with a sustainable denim finishing chart that straightforwardly explains the differences between traditional and new technologies for stonewashing, washdown effects, whisker effects, and sanding. Cotton Incorporated also has a webinar that explains each of these sustainable denim finishing techniques with clear explanations and detailed photos.
While Levi's is an OG denim brand making strides on the sustainability front, it's not the only brand to do so. In 2021, Good American achieved B Corporation status. Companies that reach this certification have proven they meet the highest standards of verified social and environmental performance, public transparency and legal accountability. Good American uses cotton, organic cotton, and recycled cotton in its denim, as well as "eco-kind" washes and significantly less water usage. It also produces its product in solar-powered factories.
Lucky Brand is another denim maker that's aiming for more eco-friendly production. The company created its Responsible Wash Program that "considers everything from water consumption to chemistry conservation, ensuring our products weigh as little on the earth and its people as possible.
"From LEED certification to using solar power, rainwater, and prioritizing worker wellbeing," Lucky Brand states, "we partner with socially and environmentally conscious factories and mills for select styles."
While sustainable, eco-conscious production is a vital direction for modern denim manufacturing, it's just one area that matters to consumers when purchasing new pieces. Shoppers rank comfort and fit (both 95 percent) as the topmost important features when purchasing denim jeans, according to the Monitor™ research. That's followed by quality (92 percent), durability (88 percent), price (87 percent), color and style (both 84 percent), whether or not it has stretch (81 percent), versatility for different occasions (81 percent), softness (81 percent), made of cotton (67 percent), and brand (58 percent).
With comfort ranked so highly, makers should note that consumers say the most comfortable jeans are those made of 100 percent cotton (44 percent), according to the Monitor™research. That's followed by denim jeans made with a cotton/spandex blend (42 percent) then jeans made with a blend of cotton and synthetics like polyester, rayon, etc. (14 percent).
About 4 of 10 consumers (39 percent) also say denim jeans made of 100 percent cotton are the most fashionable, according to the Monitor™ research. That's followed by denim made of cotton/spandex blends (36 percent) and those made with cotton and manmade fibers like polyester, etc. (25 percent).
And when it comes to what's in fashion now, the styles run the gamut from Western to dramatically loose (think slouchy fits). Recent data from Trendalytics found searches for men's baggy jeans were up 68 percent compared to last year. The firm expects the trend to continue to rise over the coming year. Interest in men's flare jeans is also up from last year (+63 percent), with more than 118 products in the market. Trendalytics expects interest in men's denim shorts to accelerate through spring and peak in July.
For women, Trendalytics sees TikTok's coastal cowgirl aesthetic manifesting in long denim skirts (up +342 percent in online searches), white blouses, and cowboy boots. Byrdie, the online beauty and style platform, says the coastal cowgirl look can be expressed with distressed denim shorts or jeans. For example, long denim shorts can be paired with a trucker hat and work jacket – a look the site describes as "dressing for the barn."
Aubrey Howard, trend forecaster in the fashion marketing department at Cotton Incorporated, says the western denim look is a seasonless trend for all markets.
"It is the ultimate heritage look with statement pieces that have longevity," Howard says, adding that the trend can be achieved through accents on denim – like fringe details, appliques and embroideries – as well as through accessories that are paired with it, such as cowboy boots and hats, and western belts.
Another trend that's coming back in vogue: Normcore. Edited reports that fears of a recession have brought back this unpretentious, average-looking mode of dressing.
"Straight-leg jeans are continuing to sell well, especially in women's wear," Edited reports. "However, this iteration of Normcore will be defined by baggy silhouettes, which outpaced straight fits by 27 percent."
Consumers are definitely in that Normcore mindset, as they say they are more likely to buy a pair of jeans that are a relaxed fit (15 percent), classic or regular fit (15 percent), straight fit (13 percent), bootcut (12 percent), skinny (11 percent) and baggy (5 percent), according to the Monitor™ data.
All of those choices are a far cry from the simple coverall made popular by Levi Strauss all those years ago. But, as the company points out, they're still related.
"The next time you see someone wearing a pair of Levi's jeans, remember that these pants are a direct descendant of that first pair made back in 1873," Levi Strauss states. "That year, two visionary immigrants — Levi Strauss and Jacob Davis — turned denim, thread and a little metal into what has become the most popular apparel on earth."